See All
Colleges >
Student Newspaper and Media Activities: How They Help Your College Applications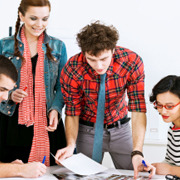 Student Newspaper and Media Activities: How They Help Your College Applications
Find out how media activities in high school can help your college application.
Getting involved with your school's newspaper or other media activities is one of the best ways to improve your college resume.
High School Media Formats
Your school may provide news and entertainment through a number of different media forms. Some of these may include:
Newspaper: Most schools have a newspaper that can run anywhere from once a week to once every few months.
Website: Your school's newspaper may be published online, or your school may have a blog or student website.
Yearbook: As a member of your school's yearbook committee, you will probably be asked to cover a specific sports team or club throughout the year, conduct interviews, and write a synopsis for the yearbook.
TV: Certain schools will do morning announcements and assemblies via television.
If you are interested in a media activity that your school does not provide, get creative – start a Facebook or YouTube page. Also, talk to your dean to find out if funding is available for a media idea that you're interested in that is not currently provided by your school.
Skills Gained From High School Media Activities
Writing: Working for the school newspaper or yearbook will require you to sharpen your writing skills under the supervision of a qualified faculty member.
Creativity: High school media opportunities are unique in that they provide more room for creativity than other extracurricular activities. For example, if you're in charge of writing about the football team for the yearbook, you will probably have creative freedom to write and format the page(s) as you see fit.
Photography/design: Whether you're working with your school's newspaper, website, or yearbook, you will get a chance to gain design experience by formatting pages or simply strengthen your ability to recognize proper page layout and design.
Student Newspaper and Media Activities: Tips and Tricks
Most media activities work under deadline, which is a skill that will improve your study habits and improve your time management skills in college.
With high school media activities, you'll have clips that can be added to your college applications. Instead of simply listing your involvement in a club, you can show your pages from the yearbook or newspaper, or video for TV broadcasts.
If you are planning on pursuing journalism or production in college, high school media activities will prove that you are serious about your interest.
Acceptance into college newspapers may not always be guaranteed as a freshman, but participation in high school will increase your chances.
People Who Read This Article Also Read:
The NCAA Clearinghouse for Athletes and Performers
Sports and College Admissions
Student Government and College Admission
Music and Drama: How They Fit Into College Applications
Hobbies, High School Clubs and Your College Applications
Extracurricular Activities and College Admissions

Quick Search: Find the College that's Right for You!
Advertisement
Visit Our Student Center

Get on track!
And find out everything you need to know about planning for college.
Advertisement