See All
Colleges >
4 Best Colleges for Agriculture Majors
4 Best Colleges for Agriculture Majors
The top schools for your farming degree and what it will cost.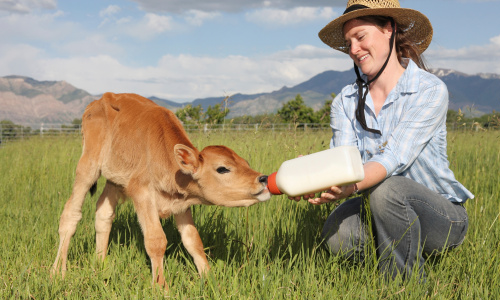 Photo: Thinkstock
To some, studying agriculture or environmental science may seem like an unusual choice. After all, how many schools have working farms? But in the end, the answer might surprise you.
Colleges throughout the U.S. offer degrees in a variety of agriculture-related fields. From dairy farm management to environmental land design, there's a whole world of subjects to study.
Majoring in agriculture doesn't mean you have to own a farm after graduation. Most agriculture colleges offer degrees in environment policy, food processing, and even vineyard management.
The following four colleges excel at providing the resources agriculture majors need to succeed, and they also have a reasonable tuition price.
4. Montana State University: $15,970 (resident tuition) or $29,320 (out of state)
The College of Agriculture at Montana State is impressive based on size alone. With six departments, working farms, and specialized research centers, it's one of the most popular major on campus. Over 1,000 students are enrolled in the college. The school is also designated as a Land Grant, meaning the federal government helps fund research.
MSU's College of Agriculture offers more than 100 scholarships to undergrads. The scholarships cover all the bases, from land rehabilitation to reproductive physiology. Even better, the free money doesn't stop after freshman year. Students can apply no matter their class year – and all it takes is one easy form.
3. Purdue University: $20,278 (resident tuition) or $39,080 (out of state)
Purdue is known for its excellent academics, and the College of Agriculture is no exception. With just over 2,500 students, the College was ranked #1 for agriculture studies throughout the United States. Agriculture majors can take pride in knowing that Purdue's department has a faculty of over 40 award-winning professors.
When it comes to scholarships, the College of Agriculture has a lot to choose from. But the scholarships at Purdue aren't awesome on variety alone. The minimum scholarship awarded is $1,000 – so if you qualify for one, chances are you'll receive a couple thousand towards your tuition.
2. Cal Poly San Luis Obispo: $24,858 (out of state pays an additional $248 per unit)
Cal Poly San Luis Obispo is home to one of the top agriculture programs in the country. The college has everything, including its own creamery, organic farm, and irrigation research center. If you're searching for an impressive and more affordable agriculture school, Cal Poly is the place.
Students can apply to over 115 scholarships within the College of Food, Agriculture, and Environmental Science alone. Whether you're a member of the Food Science Club or majoring in Wine and Viticulture, you'll find a scholarship that applies to you. Each specific department within the college also offers its own scholarships, so it's easy to cut costs.
1. Utah State University: $4,265 (resident tuition) or $12,519 (out of state)
Utah State University awards more scholarships to agriculture students than any other agriculture program. The rapidly growing College of Agriculture is home to 1,200 undergrads, and USU is looking to add more departments and students in the coming years.
USU awards more than 150 scholarships to agriculture students every year. During the 2011-2012 school year, the College of Agriculture gave out more than $180,000 in scholarship money. Students who qualify for need-based financial aid have a slight advantage – USU gives preference to those applicants.
Quick Tips
As you search for scholarships, don't forget to check with colleges' financial aid offices. Often, the list of awards you see online isn't the whole story.
Majoring in agriculture doesn't mean you have to own a farm after graduation. Most agriculture colleges offer degrees in environment policy, food processing, and even vineyard management.
Are you a member of any agriculture-related clubs or organizations? Don't forget to ask if these groups offer scholarships of their own; you might be surprised.
Advertisement
Visit Our Student Center

Get on track!
And find out everything you need to know about planning for college.
Advertisement