See All
Colleges >
College Towns: Oxford, Mississippi
College Towns: Oxford, Mississippi
Learn more about Oxford, Mississippi – home of the University of Mississippi.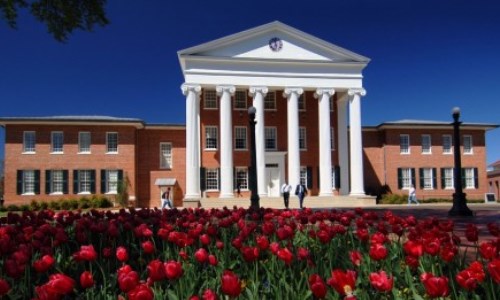 The Town: Oxford, Miss.
The center of Lafayette County, Mississippi, Oxford is famous for being one of the most attractive small towns in the United States, with a population around 19,000. Located slightly west of the Mississippi Delta, Oxford is known as the "Little Easy" because many see it as a smaller version of New Orleans.
The University of Mississippi, also known as Ole Miss, is one of the two primary public institutions in the state. (Mississippi State is the other.) Because Oxford is smaller than other college towns, the school is more of a focal point and offers more of a small-town feel. Ole Miss prides itself on its Southern charm.
For music enthusiasts, Oxford has long been known as a hub for the blues.
Notable alumni include some several renowned writers, including one of the greatest authors in American history. Nobel Prize winner William Faulkner was raised in Oxford and attended Ole Miss before dropping out. More recently, best-selling author John Grisham received his JD from the law school.
What to Do
As with all schools in the South, college football takes center stage every Saturday in the fall. Students meet to tailgate in The Grove, which serves as an on-campus park the rest of the year.
For music enthusiasts, Oxford has long been known as a hub for the blues. The Ole Miss Blues Archives is the largest collection of recordings in the world, including the likes of B.B. King. You can find numerous shops, bars and cafes holding blues nights throughout the week.
Where to Eat and Drink
If you're looking to eat some traditional Southern cuisine, stop by the Ajax diner in Courthouse Square. You'll enjoy staples of the Mississippi delta area, such as Po'boys, chicken and dumplings, and fried catfish.
Did You Know?
The speed limit at Ole Miss is 18 mph, in honor of alumnus and College Football Hall of Fame inductee Archie Manning.


People Who Read This Article Also Read:
The Top 40 College Towns in the US
College Towns: Fayetteville, Arkansas
College Towns: Lexington, Kentucky
College Towns: Tucson, Arizona
College Towns: Tuscaloosa, Alabama
College Towns: Cambridge, Massachusetts
College Towns: College Station, Texas
College Towns: Chapel Hill, North Carolina

Advertisement
Visit Our Student Center

Get on track!
And find out everything you need to know about planning for college.
Advertisement