See All
Colleges >
College Water Polo: The Best Schools for Men's and Women's Water Polo
College Water Polo: The Best Schools for Men's and Women's Water Polo
Learn which colleges and universities excel in club and NCAA water polo.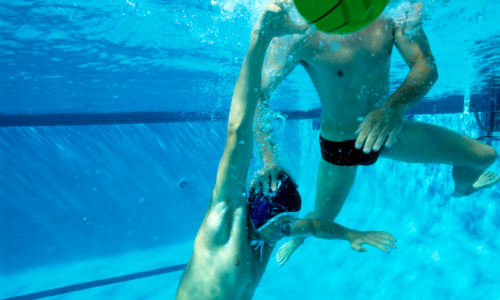 Photo: Thinkstock
Looking for a college sport a bit off the beaten path?
Water polo might be your game.
Intramural water polo is a great recreational activity available at most schools.
One of the more unique and challenging college sports, water polo is played in schools throughout the United States at a variety of skill levels.
Whether you're just getting in the water or have been practicing your power shot for years, there's a playing opportunity for you in this globally popular sport.
Water Polo History
The origins of water polo date back more than one hundred years. During the late 19th century in England, the sport was even more physical than it is today, often turning into an underwater wrestling match. When it was introduced to the 1900 Olympics, water polo started to gain popularity in other parts of the world.
Today, the sport is prominent in Eastern Europe, Australia and North America. In the United States, collegiate water polo is more popular than at the professional level, so college is a great time try it out.
Where Can You Find College Water Polo?
Typically, the best college water polo competition can be found on the west coast. California is home to many of the NCAA powerhouses (USC, Cal, and Stanford, to name a few).
However, you don't have to travel to California to partake in the aquatic competition. Many colleges across the country have NCAA, club, and intramural water polo teams.
Water polo isn't limited to large schools, either. Plenty of liberal arts and community colleges are host to excellent teams. Queens College, for example, performed very well last season, as did their top-ranked division rival, St. Francis College.
NCAA Water Polo
The NCAA oversees most intercollegiate varsity play, while the Collegiate Water Polo Association officiates club play and the non-NCAA varsity programs. As in other college sports, divisions are created regionally.
The NCAA Men's Championship has existed since 1969, and the Women's Championship began in 2001. The state of California has dominated both the men's and women's championships, winning every title.
The Pac-12 is particularly strong. California has won 13 championships (all men's), and UCLA has won 15 (8 men's, 7 women's). Recently, USC water polo has surged ahead of the competition, winning the past three men's titles and last year's women's title.
Water Polo Scholarships
Scholarships for college water polo can be hard to come by, but you're likely to find them at the top schools. Aggressive recruitment is part of the reason that standout programs like Stanford and USC are so consistently talented.
Because of this, only the best players are offered scholarships. But if you work hard in high school and perform well in games, you might find yourself on the way to California or USC on a half- or full-ride scholarship!
Club, Intramural and…Inner Tube?!
Because college water polo is a growing sport, not all colleges have varsity teams. Club water polo offers an opportunity to partake in skilled competition at schools without a varsity program. In club play, as in varsity, California teams tend to dominate. Last season, Cal Poly and the University of California, Davis headed up the final women's standings, and UCLA topped the men's.
Intramural water polo is a great recreational activity available at most schools. Because intramural sports are student-run, some pretty wacky variations can arise. At East Tennessee State University, inner tube water polo has become a popular sport.
Another fun variation of water polo is surf polo, which incorporates surfing into the mix. As far as we know, there aren't any intramural surf polo teams out there, but that doesn't mean you can't start one!


People Who Read This Article Also Read:
Division I Sports Conferences
How is the NCAA Structured?
The Worst College Sports Teams
Where Did American Olympic Athletes Go to College?
Small College Sports Powerhouses
The Best Schools for Men's College Rugby
Where Did American World Cup Stars Go to College?
Best Colleges for Tailgating

Advertisement
Visit Our Student Center

Get on track!
And find out everything you need to know about planning for college.
Advertisement