See All
Colleges >
How to Survive Rush Week
How to Survive Rush Week
Tips on surviving rush week with your fraternity or sorority.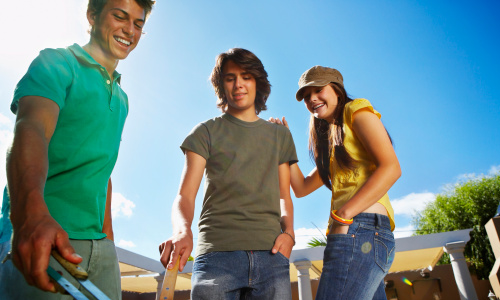 Photo: Thinkstock
By Christopher Geno
Rush week is ever-present at the beginning of each school year. Even the students who aren't involved in Greek life can't help notice what's going on. There are flyers everywhere, big parties at the houses, lots of girls wearing fancy dresses, and a ton of students excited to become the next pledge at their favorite fraternity or sorority.
Make sure to eat healthy, get enough sleep, and keep up with studying and homework during rush week too.
Rush week is such an intense, hectic time at college that it's easy to get a little intimidated. Follow these simple tips, and you'll go from hiding scared in the study hall to handling rush week with no problem.
What is rush week?
Rush week is just the informal name for the period of time when fraternities and sororities find new members for the next four years. It's typically a week long, but can be shorter or longer depending on what school you attend. Obviously the schools that don't have Greek organizations won't have rush week.
How do I survive rush week?
For the most part, surviving rush week is a matter of staying confident and having fun. The number one rule during rush week is simply be yourself.
College isn't high school and sororities and fraternities aren't cliques. The bonds you form when a part of a sorority or fraternity can last the rest of your life. You don't want to go through the rush process with people you don't like being around, so don't try to impress the "cool" crowd if you don't think they're cool.
When you do find a sorority or fraternity you really like though, here are some tips for making the most of your time with them.
Ask questions: Ask pertinent, intelligent questions to learn more about Greek life and the specific fraternity or sorority you're interested in.
Share your hobbies and interests: See if other members might have similar interests.
Dress appropriately: Many sorority parties and rush week events have dress codes, either formal or informal. Know the requirements for them and dress appropriately.
Make a good impression: Ask full members questions about themselves and why they love their fraternity or sorority. People enjoy the chance to talk about their own experiences, so it's a good way to make a great impression.
Don't be afraid: Everyone had to rush at some point. Do what you're comfortable doing, and remember that Greek letter organizations need you. They want you to have fun and join them.
What else can I do to get through rush week?
Make sure to eat healthy, get enough sleep, and keep up with studying and homework during rush week too. Both sororities and fraternities have minimum GPA standards and require a big time commitment. If you can't stay on top of your academic commitments during rush week, you'll have even bigger problems if you join a fraternity or sorority full time.
Advertisement
Visit Our Student Center

Get on track!
And find out everything you need to know about planning for college.
Advertisement