See All
Colleges >
10 Best Questions to Ask During a Job Interview
10 Best Questions to Ask During a Job Interview
See which questions to ask during an interview and which questions you should avoid.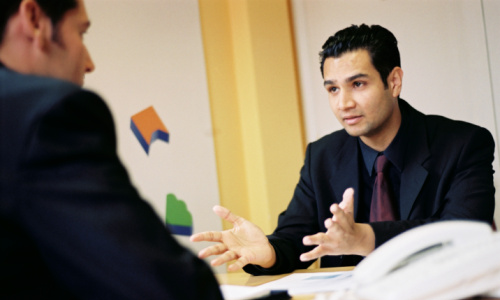 Photo: Thinkstock
By Adam Jazairi
Far too many misguided job seekers think of an interview as an interrogation. In fact, this couldn't be further from the truth. Interviewers expect candidates to ask questions during the interview. Not only does it show interest in the position and the company, it also demonstrates that you are experienced, knowledgeable, and curious.
Of course, it's essential to know which questions to ask during a job interview. Some questions will present yourself as engaged and interested, while others may paint you as self-serving, lazy, or even bored.
To take the guesswork out of the process, we've put together a list of questions to ask during an interview, as well as a few to avoid. Keep this list in mind, and you won't find yourself speechless during your next job interview.
10 Questions to Ask During a Job Interview
What projects is this department currently working on?


What sort of qualities do you believe are essential for this position?


Are there opportunities for growth within the company?


What are some of the department's recent accomplishments?


Does this department have any particular goals within the coming years?


What do you consider to be the industry's future?


What are your expectations for people in this position?


What is the organizational structure of the company?


How does this department fit into the goals and needs of the company?


How will I be able to assist with the department's goals as soon as I begin the job?


5 Questions to Avoid During a Job Interview
Do you enjoy working here?


How much time off do I get?


Is the work environment here fun?


How many years am I expected to work here?


What are the benefits?


You'll notice a few trends here. Typically, the best questions to ask during a job interview are specific queries about the company or the position. This shows that you're interested and motivated enough that you're already imagining yourself in the job.
Similarly, the worst questions to ask an interviewer deal with vacation time, benefits, and leisure time. While these questions aren't necessarily dealbreakers, they might indicate to the interviewer that you're more interested in perks than the job itself.
Some questions to ask during a job interview can be good or bad, depending on how you frame them. For example, #4 in the "Questions to Avoid" section might make it seem like you're already planning to leave the company. However, asking "How long is the appointment?" shows that you have a concrete plan for your future. Word choice is important, so be conscious!
Advertisement
Visit Our Student Center

Get on track!
And find out everything you need to know about planning for college.
Advertisement