See All
Colleges >
College Towns: State College, Pennsylvania
College Towns: State College, Pennsylvania
Learn more about State College, Pennsylvania – home of Penn State.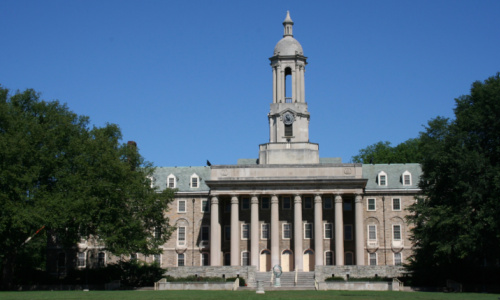 Photo: Thinkstock
The Town: State College, Pennsylvania
State College, more commonly known as "Happy Valley" because of the cheerful disposition that makes up the community, is a city of 42,000 located in Central Pennsylvania between the Nittany and Penn Valleys. University Park is home to Penn State University, the largest public university in the state. Expect four distinct seasons typical of the East Coast: cold, snowy winters, hot, humid summers, and temperate springs and autumns.
Penn State's football program is viewed as one of the best in the nation.
The School: Pennsylvania State University (Penn State)
Mount Nittany overlooks the city and can be seen from nearly any point on campus. A top 15 public university, Penn State was found by the Wall Street Journal to be ranked No. 1 when it polled corporate recruiters about which graduates were the best prepared and ready to succeed after graduating from college. You'll know you've reached campus once you pass the Lion statue at University Park, a nod to the school mascot.
Penn has finished in the top 25 of the Director's Cup, which ranks the best overall collegiate athletic departments each year, since the award's inception. The football program is viewed as one of the best in the nation. Iconic coach Joe Paterno was in charge for 45 years, and is the all-time NCAA leader in wins with 401. The Nittany Lions have won two national championships in football.
What to Do
With a capacity of more than 107,000, Beaver Stadium is one of the best atmospheres to take in a college football game. The "S-Zone," reserved exclusively for seniors, choreograph their shirts and seating to create a white background with a Block "S" that can be seen in overhead shots of the crowd. Before each game, students camp out in tents to get the best seats in an area that is now known as "Paternoville."
Each July, State College hosts Artfest, a five-day festival in which many of the streets downtown are closed off. Local artists can display and sell their paintings, jewelry, pottery and other creations; live music lines the street as well.
The Penn State Dance Marathon is the largest student-run philanthropy in the world, raising $9,563,016 for charities in 2011. Thousands of students meet in the Bryce Jordan Center (the arena where Penn State plays its home basketball games) to dance for up to 48 consecutive hours.
Where to Eat
Jambalaya and crawfish aren't what first comes to mind when you think of Pennsylvania, but Spats Café and Speakeasy specializes in authentic Creole and Cajun cuisine. Stop by for lunch or dinner, or take some samplers from their ever-changing Tapas menu.
Did You Know?
According to local myth, Nittany is the name of an Algonquian maiden who caused the creation of Mount Nittany.


People Who Read This Article Also Read:
The Top 40 College Towns in the US
College Towns: Fayetteville, Arkansas
College Towns: Oxford, Mississippi
College Towns: Tucson, Arizona
College Towns: Tuscaloosa, Alabama
College Towns: Cambridge, Massachusetts
College Towns: College Station, Texas
College Towns: Chapel Hill, North Carolina

Advertisement
Visit Our Student Center

Get on track!
And find out everything you need to know about planning for college.
Advertisement