College Tennis
Learn everything you need to know about collegiate men's and women's tennis, including the best tennis schools, scholarship information and how you can get involved in intramural, club, or NCAA tennis.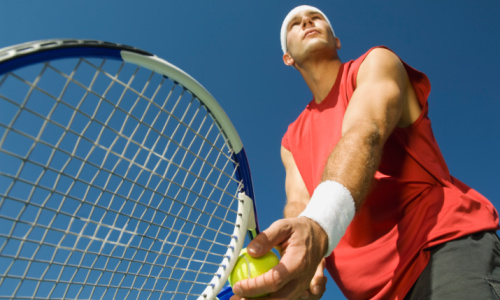 Photo: Thinkstock
One of the oldest and most widely played sports, tennis is a game that will never go out of style – especially on college campuses.
For some, it's a fun way to stay fit; for others, it's a way of life.
Whichever way you look at it, one thing's for sure: there are plenty of chances to play tennis in college.
For beginners and racket-junkies alike, this article will give you info on how and where to get involved in college tennis.
Whether you're competing fiercely or just looking for a new hobby, tennis is a great way to add fun and fitness to your college lifestyle.
History of Tennis
Tennis, as we know it, began around the 16th century in England and France, when it was played indoors against a wall.
When the first Wimbledon championship was held in 1877, players made an attempt to standardize the rules, eventually resulting in the sport we play today.
Though still popular in France and the UK, tennis has since become a global sport and entering many colleges throughout the United States!
NCAA Tennis
Both women's and men's NCAA tennis teams are organized into three divisions. This helps to even out the competition, as larger schools with bigger athletic budgets tend to attract more talent.
In both men's and women's Division I teams, Stanford tennis has been a force to be reckoned with, winning 33 team championships altogether. The Lady Cardinals have been particularly dominant, winning 16 titles since the NCAA Women's Tennis Championship began in 1982. After winning the 2010 championship, they lost the 2011 title to the University of Florida.
In the men's college tennis division, The University of Southern California is currently at the top. The Trojans won their third title in a row, after edging out the University of Virginia in the final round of the 2011 championship. With this year's title, USC has 19 overall victories.
Club and Intramural Tennis
For schools that lack an NCAA tennis team, club tennis offers the opportunity for intercollegiate play. The National Association of Intercollegiate Athletics (NAIA) regulates club competition, hosting a national championship each year.
Over the past ten years, Auburn University, Montgomery has owned the NAIA Championship courts. Since 2001, Auburn - Montgomery has won eight women's titles and six men's titles.
For those interested in less competitive play, intramural tennis is another great option. Most schools have intramural tennis programs, and if you're school doesn't offer one, try to start your own!
With intramural tennis, you might also find some fun game variations, like intramural table tennis offered at Northern Virginia Community College.
Where Pro Tennis Players Went to College
As is the case with other popular sports, many professional tennis players use college as a time to refine their skills. Jimmy Connors honed his craft at UCLA, while Billie Jean King started her spectacular career at California State Los Angeles.
A more recent example is James Blake, who attended Harvard before he went pro. In an interview with Casey Snedecor of the Intercollegiate Tennis Association (ITA), Blake affirmed the importance of his years in college: "I learned so much in the classroom and outside of it that the experience will always be invaluable to me. I also felt like I grew as a person so much in those two years that it prepared me for an independent lifestyle."
Whether you're competing fiercely or just looking for a new hobby, tennis is a great way to add fun and fitness to your college lifestyle.


People Who Read This Article Also Read:
Division I Sports Conferences
How is the NCAA Structured?
The Worst College Sports Teams
Where Did American Olympic Athletes Go to College?
Small College Sports Powerhouses
The Best Schools for Men's College Rugby
Where Did American World Cup Stars Go to College?
Best Colleges for Tailgating

Advertisement
Visit Our Student Center

Get on track!
And find out everything you need to know about planning for college.
Advertisement