See All
Colleges >
8 College Resources for Minority Students
8 College Resources for Minority Students
Regardless of your racial background, there are resources at your fingertips for any guidance you may need through the college application process and beyond.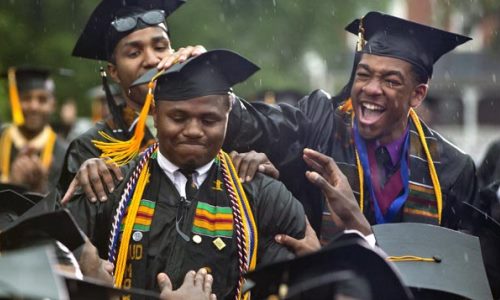 There's no shortage of resources for minority students at colleges across the U.S. today. Organizations specific to a student's race and interests are available at many schools, however, there are also national organizations available if your school doesn't have any viable options.
With a vision of a world where every Latino household has a college degree earner, The Hispanic Scholarship Fund (HSF) has been providing support for Hispanic higher education since 1975.
National Organizations for Minority Students
American Indian Higher Education Consortium's (AIHEC) focus is on tribal colleges and universities throughout the U.S. According to their website, this organization has four main objectives that align with their mission: maintain commonly held standards of quality in American Indian education; support the development of new tribally controlled colleges; promote and assist in the development of legislation to support American Indian higher education; and encourage greater participation by American Indians in the development of higher education policy.
The ASPIRA Association is a national Hispanic organization that develops the educational and leadership capacity of Hispanic youth. ASPIRA currently serves a diverse group of more than 85,000 students each year that come from a number of different backgrounds including Puerto Rican, Dominican, Central American, Mexican and Cuban. ASPIRA offers clubs in schools along with after-school education programs for students across the country.
The National Association for the Advancement of Colored People (NAACP) has a National Education Program that strives to make sure the road to higher education is attainable for any American students, no matter their ethnicity. This program aims to eliminate education-related racial and ethnic disparities in public schools through advocacy training, policy development and guidance, building collaborative networks, and direct action.
The Hispanic Association of Colleges and Universities (HACU) is the only national educational association that represents Hispanic-serving institutions across the U.S. This association prides themselves on helping Hispanic students succeed in the classroom throughout their entire lives — from kindergarten through graduate school and even the work force.
Scholarship and Internship Resources for Minorities
With a vision of a world where every Latino household has a college degree earner, The Hispanic Scholarship Fund (HSF) has been providing support for Hispanic higher education since 1975. This organization provides Hispanic families with financial and educational resources they otherwise wouldn't have, giving them a competitive edge in today's world of college education. HSF has awarded more than $360 million in scholarships over the past 38 years.
INROADS has a mission that is more specialized than most on this list — to develop and place talented minority youth in the business industry in order to prepare them for corporate and community leadership. INROADS defines the keys to success as Selection, Education and Training, and Performance. With those keys, this organization has placed approximately 2,000 minority interns at over 200 companies, helping students have opportunities they otherwise wouldn't, as well as help businesses to have a more diverse workforce.
The National Action Council for Minorities in Engineering (NACME) has high hopes for American competitiveness in STEM — science, technology, engineering and math — educations and careers, and it aims to increase the number of African American, American Indian and Latino students in STEM fields. NACME is one of the nation's largest private sources of scholarships for minorities in engineering and have given scholarship support to more than 15 percent of all minority engineering graduates since 1974.
The National Urban League's (NUL) education program focuses on three priorities: education, employ and empower. Because the NUL believes that educational opportunity and economic empowerment are linked, they believe that an education is key to ensuring a child is able to attain educational independence in the future. A few of the things NUL focuses on to keep these priorities on track are ensuring students have access to a diverse group of teachers and helping students get effective job training and placement.
Quick Facts
There are a few simple things you can do to find out if you'll fit in on a college campus including scheduling an in-person college visit, taking a campus tour, scheduling an interview with a college official, meeting with student groups specific to your needs, and arranging to stay overnight with students so you can see what college life is really like. College newspapers can also give you a good idea of the day-to-day environment on a campus.
When you contact the organizations above, find out if there are additional organizations they recommend you contact for financial aid or college assistance. The more resources you have, the better prepared you'll be to attend and pay for college.
Make friends with minority college students while you're still in high school, and get their perspective on things you may be concerned about. A friend would likely give you the most unbiased view on any issues you may be worried about.
People Who Read This Article Also Read:
Minority Scholarships
Rights Organizations on Campus
Student Organizations: An Overview
Campus Cultural Clubs Help Find a Niche

Advertisement
Visit Our Student Center

Get on track!
And find out everything you need to know about planning for college.
Advertisement