See All
Colleges >
Gay and Lesbian Students on Campus
Gay and Lesbian Students on Campus
College diversity comes in all shapes and forms. Learn about LGBT student organizations and resources.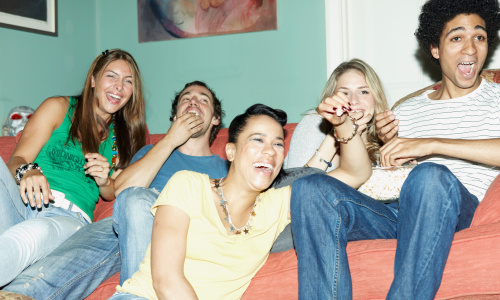 Photo: Thinkstock
It's important to realize that while diversity can mean someone of a different ethnicity, it can also mean someone with a different lifestyle.
As colleges continue to encourage diverse learning communities, Lesbian, Gay, Bisexual and Transgender (LGBT) students have become a prominent presence at many campuses.
It's important to look into LGBT policies during your college search.
For obvious reasons, a lot of gay and lesbian students have a difficult time coming out in high school, but college is a time for LGBT students to explore and celebrate their identity.
LGBT-Friendly Campuses
There are many overtly LGBT-friendly schools in the United States: Stanford, Oberlin, Penn State and the University of Vermont, to name a few. But how do you find out if your school is LGBT-friendly? Check out their campus policies, public safety records and information on student life. Does the school have a good anti-discrimination record? Does it actively try to make campus life positive for LGBT students?
It's also helpful to look into the college's student organizations and programs. UCLA, a very LGBT-friendly campus, has 19 LGBT clubs, including Delta Lambda Phi, the nation's largest gay and bisexual fraternity, and Gamma Rho Lambda, a lesbian/bisexual sorority. The University of Oregon has the completely student-run LGBTQ Alliance, and Ohio State University offers a sexuality studies major.
Of course, these are just a few examples. Run some LGBT-related searches on your college's website to see what its policies are. The Campus Climate Index is a great search tool to compare schools' records with LGBT issues.
Scholarships and Resources for LGBT Students
Just as there are scholarships for students of a particular ethnicity, there are also scholarship programs for LGBT students. Some schools have scholarships specific to that institution. The University of Oregon, for example, has a handful of LGBT awards, such as the George Bean Memorial and John Moore scholarships.
If your school doesn't offer any LGBT scholarships, there are plenty of national awards available. Plenty of other resources are available to LGBT students. Many colleges have LGBT centers with support, discussion groups and outreach events. There are also national organizations such as the Consortium of Higher Education Lesbian Gay Bisexual Transgender Resource Professionals, the Gay Lesbian & Straight Education Network, and The Gay & Lesbian Alliance Against Defamation.
Controversy
There is, unfortunately, still plenty of controversy surrounding the LGBT lifestyle, and few campuses are free of this. A group of students at Harding University recently started a website to support LGBT students facing discrimination, and this met with disapproval from the institution and community.
This sort of controversy is more likely to occur at schools without anti-discrimination policies or support for LGBT students. That means it's especially important to look into these policies during your college search.
The bright side of issues such as this is the national awareness that it brings to the struggle for equality. For every Harding University, there are 10 schools like the University of Oregon that celebrate the diversity that LGBT students bring to campus.


People Who Read This Article Also Read:
Clubs and Student Organizations for International Students
Student Organizations: An Overview
Student Government
Environmental Groups on Campus
Student Religion: Religious Groups on Campus
The College Academic Calendar
Academic Competitions for College Students
How To Start Your Own Student Organization

Advertisement
Visit Our Student Center

Get on track!
And find out everything you need to know about planning for college.
Advertisement