See All
Colleges >
College Special Interest Housing
College Special Interest Housing
A way to live with people who have common interests.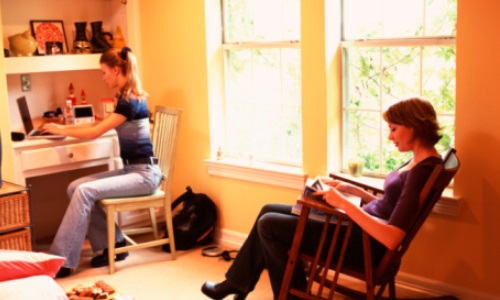 Photo: Thinkstock
For some, the idea of living in the dorms is exciting. For others, it's a nightmare. Hundreds of kids in the same residence hall can make for a great social environment, but it can also be overwhelming, especially for those with unique interests.
Fortunately, there's an alternative. Special-interest housing, now offered at many colleges throughout the country, provides a living-learning community for students with common interests. With a variety of themes and philosophies, these housing opportunities are a great option if you feel that the freshman dorms aren't for you.
If you have unique interests or a strong ethnic identity, special-interest housing can be a great way to meet similar students.






What is Special-Interest Housing?
Special-interest housing strives to create small, friendly academic environments with like-minded students. Many students who live in these communities share the same majors, backgrounds, or simply a desire to expand their cultural understanding.
Also called "theme housing," these communities are based on a common interest. Often this interest is academic, like a shared field of study or participation in an honors program. However, the similarity can also be cultural: a shared ethnicity, sexual orientation, or an interest in cultivating diversity, for example.
Residence life in these halls is a little different from regular dorms. Most theme housing strives to create a living-learning community; some of your classes may be held in your residence hall, and your professor might have offices there as well. These halls are also usually smaller than other dorms, creating a smaller and more tightly knit community.
What Are the Benefits?
If you have unique interests or a strong ethnic identity, special-interest housing can be a great way to meet similar students. If you have classes with your hallmates, you'll get to know everyone and make friends quickly, which can sometimes be challenging in a large freshman dorm.
Some living-learning communities also provide unique academic opportunities. For example, the University of Michigan's Residential College offers a full catalog of courses, many of which are not open to non-residents.
Some Examples
Founded in 1967, the Residential College is one of the oldest living-learning communities. Primarily for students interested in the arts and humanities, the RC is known for its excellent foreign-language programs. In their first year, students are required to take between 12 and 16 language credits.
Another academic special-interest community, Enginuity Hall provides housing for freshmen in the Bourns College of Engineering (BCOE). In addition to its close proximity to the BCOE, Enginuity Hall also has upperclassmen mentors available to help you through your first year.
Mosaic House celebrates diversity in all its forms: culture, gender, sexuality and ethnicity. Residents engage in friendly dialogue and organize educational and recreational events to promote diversity on the William & Mary campus.
The Gender Equity Hall is one of the reasons Oregon is one of the nation's most LGBT-friendly colleges. In this unique residence hall, students share rooms regardless of gender or sexuality. Transgender, gay, straight, bisexual and intersex students are all included and treated equally and respectfully.
Despite rules to the contrary, a dorm completely free of drugs and alcohol can be a rare find. Not only does this community unite anti-drug students, it also aims to educate the Columbia campus on the dangers of drug use.

People Who Read This Article Also Read:
The Worst College Dorms
College Housing Myths
How to Choose a College Roommate
Where Did American Olympic Athletes Go to College?
Where Did Pro Baseball Players go to College?
Where did your Favorite NFL Players go to College?
NBA Players Going Back to College
College Bowling
Drinking in College: Do You Want a Party School or a Dry School?

Related Timeline Articles
Advertisement
Visit Our Student Center

Get on track!
And find out everything you need to know about planning for college.
Advertisement