Student Loan Guide
What are student loans and how can they help you pay for college? Check out our guide to student loans.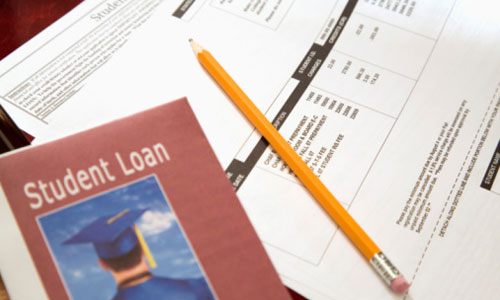 Photo: ThinkStock
If scholarships, grants and help from your parents aren't enough to cover your tuition, you're not alone. According to American Student Assistance, about 60% of American college students borrow money to help cover the costs of higher education with student loans.
For many of these 12 million students, student loans are a great resource for them, but loan contracts can be confusing, especially for first-time borrowers. We've teamed up with Meg Favreau, Senior Editor at the popular finance advice site, WiseBread.com to give you an insider's look at how student loans work.
When submitting a FAFSA, students also apply for Federal Work-Study programs that can help cover their college costs.
Types of Student Loans
There are several types of student loans available today. These loans fall into three categories: federal, state and private.
Read the summaries below or get more in-depth information about different types of loans.
Read More >>
Federal Student Loans
The first place that any student should look for loans is the federal government. There are three main types of federal loans for students:
Stafford Loans: These loans have a low interest rate and can be subsidized (the government pays the interest while the student is in school) or unsubsidized (the student pays all the interest). Student can typically get a Stafford Loan regardless of their income or credit history.
Perkins Loans: These are loans given to students with exceptional financial need. Schools get a funding limit and then act as the lender to their students. Perkins Loans are subsidized and have low interest rates.
PLUS Loans: These are available to parents of undergraduate students as well as graduate and professional students.
State Loans
Students often forget that, in addition to federal loans, they can also apply for loans through their state. You can look for loans from the state when you live or the state where you're enrolled in a college or university. The parameters for state loans vary according to location, but they typically have favorable interest rates and repayment terms.
Find more financial aid and student loans by state.
Read More >>
Private Student Loans
Private student loans are another option for students who need additional aid beyond their federal student loans. These loans are distributed by private lenders and typically take your credit score into account. The interest rates are variable and you may not be able to defer payment until after graduation like you can with federal loans.
Not sure which loan option works best for you? Compare federal financial aid and private loans.
Read More >>
Benefits of Federal Loans
Why do experts always recommend federal student loans above state or private loans? As Favreau explains, "Federal loans have several benefits that private loans do not." Here's a quick look at what makes federal student loans your best bet for borrowing:
Fixed interest rates: You get locked into a rate that is typically lower than the ones you'll be offered by other lenders.
Delayed payment: You don't have to start repaying your federal student loans until after you graduate.
Repayment options: Federal loans have alternatives for repayment (like income-based or graduated repayment) that other types of loans aren't required to offer.
Deferment: If you go back to school, join the military or have a financial hardship, you can typically arrange for your federal student loans to be deferred temporarily. "For some federal loans, the government may even pay interest during this time," Favreau adds.
Debt forgiveness: Under certain circumstances (such as having a low income or working as a public servant), a portion of your student debt may be forgiven.
Insurance: Your federal student loans are canceled if you die or become disabled.
How to Apply for Student Loans
Students can apply for all federal student loans by filling out the Free Application for Federal Student Aid (FAFSA) each year. There's no fee to submit the form and you can fill it out and send it in online at FAFSA.ed.gov. Later, financial aid award letters are sent out to let students know how much and what types of student loans will be included in their federal financial aid package.
Students who still more money beyond federal aid to cover their college costs should look up student loans available through their state. The Department of Education has a website for connecting students with the financial aid options for each state.
Private loans are a little more complicated because each lender is different and there are fewer regulations on them compared to federal loans. According to Favreau, "The most important thing to do when comparing and considering private loans is to make sure you fully understand the terms of the loan -- how long you have to pay it back, what the fees are, what the interest rate is, and whether or not the interest rate is variable."
Keep in mind that, if you apply for private loans, you may need to have a cosigner. This is typically required for students who don't have a sufficient credit score to be awarded a student loan on their own.
Quick Tips
Federal loans can typically be combined into a consolidation loan into order to simplify repayment and get a better interest rate.
When submitting a FAFSA, students also apply for Federal Work-Study programs that can help cover their college costs.
People Who Read This Article Also Read:
Different Types of College Loans
10 Facts About Repaying College Loans
Net Price Comparison Guide
What is Your Expected Family Contribution (EFC)?
Advertisement
Visit Our Student Center

Get on track!
And find out everything you need to know about planning for college.
Advertisement