See All
Colleges >
How to Avoid Senioritis
How to Avoid Senioritis
What you do during your senior year can affect your college prospects, so it's important to avoid slacking off.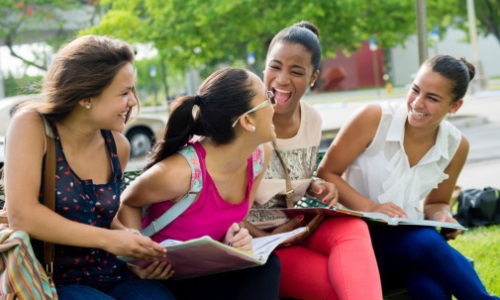 Photo: Thinkstock
Senioritis can be detected by a few key symptoms: lower grades, increased absences and a casual attitude towards all things school-related. After getting accepted into a college, many high school seniors aren't as committed as they once were to maintaining their grades. Unfortunately, senioritis can cause serious problems when it gets out of hand, including your college admission being revoked. Use these tips to avoid succumbing to senioritis during your final year of high school.
It's important to be proactive about maintaining your academic performance during your final weeks as a senior.
Tip #1: Keep Track of Obligations and Schoolwork
Senior year can be an exceptionally busy time in your life. Between college applications, schoolwork, social obligations and perhaps a part-time job or volunteer work, you may feel stretched thin. This can make it especially easy to fall behind or simply slack off from some of your responsibilities.
Combat this senioritis pitfall by staying organized and on top of things during your senior year. Keep a calendar with all of your work and social obligations. Map out each semester by marking dates for upcoming assignments and tests. And when it comes to activities outside of school, don't be afraid to say "no" once in awhile if you need a break.
Tip #2: Don't Let Your Grades Slip
According to Martha C. Merrill, Dean of Admission and Financial Aid at Connecticut College, "Colleges require final grades for accepted students. Many students believe that only the first half of senior year 'counts.' Not true. At Connecticut College, we carefully review the senior-year progress of admitted students and require midterm and final grades to be sent to the office of admission."
After receiving at least one college acceptance letter, many students are content to sit back and relax for the remainder of senior year. However, college admissions officers will be looking closely at your transcript when making decisions, including information on your current courses and grades. They'll even track this information after you've been accepted.
If your grades seriously slip in your second semester of senior year, you may receive a letter from a college informing you that your admission may potentially be revoked. You may be required to submit an explanation for the change in academic performance during this time. In other cases, a college may place a struggling student on academic probation or even adjust their financial aid offer. Your future is still at stake even after receiving an acceptance letter, so be sure you keep your grades up throughout your senior year.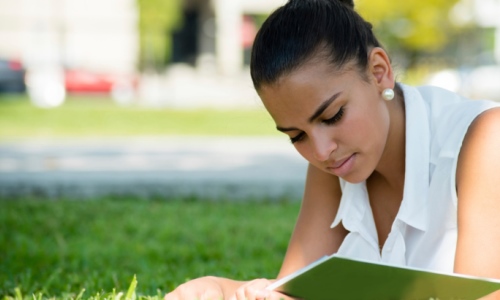 Photo: Thinkstock
Tip #3: Maintain a Challenging Course Load
Some seniors think they've found a clever way to cheat the system when they sign up for easy classes for their senior year. With a course schedule full of "blow-off" classes, their year will be that much easier and more enjoyable, right?
Wrong. Colleges aren't just watching your grades – they also pay attention to your course load. As Merrill explains, "Colleges expect you to continue your current course schedule and maintain the level of academic and personal success demonstrated in your application. Colleges look to your application, especially your transcript, to determine if you are an appropriate academic match for the college – and vice versa. We expect the students we admit will continue to demonstrate the traits that distinguished them during the admission process – throughout senior year and during the years spent on our campus. If you can't maintain that level of success during your senior year, you cast doubt on your ability to succeed in college."
Tip #4: Find Responsible and Fun Ways to Celebrate Senior Year
It might be easy to fall victim to the temptations of parties, skipping school or other distractions during your senior year. However, these aren't smart ways to make your last year of high school a memorable one. Instead, you can focus on responsible opportunities to celebrate your senior year.
Attend football games, get involved with a fun club at school or help organize your senior prom. Take time to enjoy your graduation events, including any school-sponsored festivities and your classmates' graduation parties.
By spending time on these activities, you create lasting memories of your senior year while also preparing for the challenges ahead in college. According to Merrill, "With applications in, seniors should take time to savor their final months of high school and enjoy family and friends. But they should also be using this important time in their lives to practice balancing academics with other commitments, and not fall victim to the 'senior slack.'"
Seniors are prone to experiencing senioritis at one point or another. However, it's important to be proactive about maintaining your academic performance during this time. When accepting a college offer of admission, students need to remember that the school is expecting them to live up to the way they presented themselves on their application.
People Who Read This Article Also Read:
10 Most Common Senior Year Mistakes
Summer Reading List: Best Books About College
How to Have a Last Hurrah With Friends Before College
College Dating Advice: 5 Things Seniors Know that Freshmen Don't
Advertisement
Visit Our Student Center

Get on track!
And find out everything you need to know about planning for college.
Advertisement