See All
Colleges >
College Towns: Iowa City, Iowa
College Towns: Iowa City, Iowa
Learn more about Iowa City, Iowa -- Home of the University of Iowa.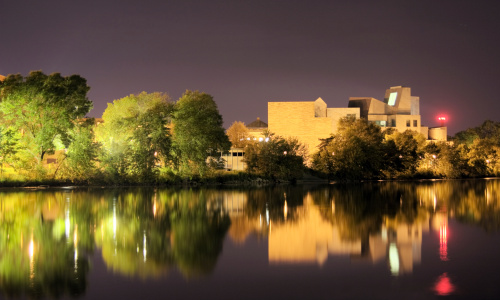 Photo: Thinkstock
The Town: Iowa City, Iowa
Named by Forbes magazine as one of the top three smaller metropolitan areas in the United States, Iowa City is a quaint community of 67,000 on the Iowa River. Weather can reach typical Midwestern extremes, with heavy snowstorms, tornadoes, thunderstorms and floods. But each year you can expect beautiful springs and autumns.
Although Iowa is first and foremost a football school, it's probably the best college in the country to watch a wrestling match.
Iowa City was the original capital of the state, and the University of Iowa campus is built around the Old Capitol building. This makes up one-fifth of the Pentacrest: five buildings surrounding a grassy, open area that functions as the heart of campus.
Iowa is renowned for its creative writing program. The Iowa Writer's Workshop (the name of the school's master's program) has brought in writers such as Kurt Vonnegut and Philip Roth as professors, and every year nationally renowned writers make their way to the campus for lectures and guest panels.
What to Do
Home to more than 30 bars, the Pedestrian Mall (also known as the City Plaza) is the hub of nightlife and social activity in Iowa City. Attracting students and locals alike, the mall hosts the annual Iowa City Jazz Festival and the Iowa City Arts Festival.
As you visit downtown, make sure you take a walk down Iowa Avenue as part of the Literary Walk. The sidewalk is lined with bronze panels featuring the writing of 49 famous authors, all of whom have some connection to the state.
Although Iowa is first and foremost a football school, it's probably the best college in the country to watch a wrestling match. For many years, the program was coached by Olympic champion Dan Gable, winning an astounding 23 national titles, including nine straight from 1978 through 1986.
Where to Eat
Hammburg Inn No. 2 is a regular stop for presidential candidates during caucuses and was featured on "The West Wing." Breakfast is served all day, so if you've got an afternoon hankering for some hash browns, make sure you take a visit to "The Burg."
Did You Know?
Iowa was the first university to accept men and women on an equal basis.


People Who Read This Article Also Read:
The Top 40 College Towns in the US
College Towns: Ames, Iowa
College Towns: Urbana-Champaign, Illinois
College Towns: Corvallis, Oregon
College Towns: Bloomington, Indiana
College Towns: Logan, Utah
College Towns: Athens, Georgia
College Towns: Chapel Hill, North Carolina

Advertisement
Visit Our Student Center

Get on track!
And find out everything you need to know about planning for college.
Advertisement