See All
Colleges >
The Pros and Cons of Using College Rankings
The Pros and Cons of Using College Rankings
Learn how popular college rankings can either help or hinder your search for a university.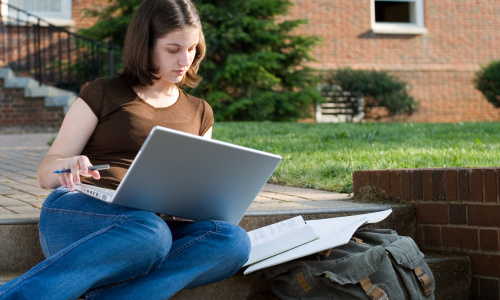 Photo: Thinkstock
College rankings can serve as a simple and quick way to find a college or university that meets your search goals and criteria. However, most people will tell you to take such ratings with a grain of salt. Are college rankings really all they are cracked up to be?
Whether you are looking to enroll in a 4-year college or earn an online degree, there are many things you need to know about popular college rankings before using them to help you choose a degree program.
College rankings rarely consider job placements and the quality of job placements when determining where a school might place on a list.
What Are College Rankings?
College rankings are intended to help prospective students in their search for top colleges. While many colleges may offer the degrees and opportunities to pursue careers that students want, they might do so in different ways. Lists that rank schools according to specific criteria of interest, such as best online college or academic excellence, can be extremely helpful in the quest to find a college that suits a student's needs. However, the focus on ranked colleges means that good colleges, or schools that are especially strong in certain majors or programs, can get overlooked.
Pros of College Ranking Systems
Though certainly not perfect, popular college rankings are a great way to sift through thousands of universities and find college options that are most in tune with an individual's wants and needs. Here are the top ways college rankings can help:
In the broadest sense, rankings provide a list of top colleges. This allows prospective students to identify and expand the list of potential 4-year or online schools based on quality of degree programs, majors available, career opportunities and more. For example, if a small school is your priority, you can find a list of the top ten small schools. If you're primarily looking for a social experience, you can check out the top ten party schools.
The 4-year college rankings also provide tons of data and statistics than can be helpful in selecting a university. Stats such as average age of student, student diversity, percentage of freshmen who return for sophomore year and average enrolling GPA can all give an individual some quick and easy insight into a school.
Another pro of popular college ratings is the potential to create motivation for positive change. For example, a school that is ranked low due to low retention rate may actively seek to improve extracurricular education programs such as counseling and tutoring.
Cons of College Ranking Systems
While college rankings can be helpful, you do need to be wary about using them when you are making your college decision. Keep the following points in mind:
Subjectivity and bias cannot be completely removed from college rankings. Furthermore, there are so many fluctuating factors that make up a college that it is virtually impossible to rank colleges accurately and consistently.
Selectivity (percentage of students admitted) is one of the main criterion for many college rankings. Keep in mind that just because a college is more selective than another college does not necessarily mean that it is a "better" college.
College rank may be less meaningful to a prospective student than individual fit. Regardless of college ranking, students must feel comfortable at their school to ensure a great college experience.
College rankings sometimes result in negative college behavior. For example, a school may omit or augment data to boost pertinent ranking factors, such as SAT scores. Other practices, such as denying "overqualified" applicants because they are more likely to gain acceptance to a more prestigious school (thereby improving the school's percentage of students who accept offers of admission) have also been known to occur.
Getting a quality job after you graduate is the most important end goal of earning a college degree. College rankings rarely consider job placements and the quality of job placements when determining where a school might place on a list.
Top College Ranking Publications
While there are a number of popular college ranking lists, the four most popular are as follows:
U.S. News and World Report: Lots of specialized lists and statistics, although this list has received some criticism for using vague ranking criteria such as "academic reputation."
Princeton Review: Creates rankings through student surveys and features over 60 specialized ranking lists, but student surveys are, of course, subject to bias.
Ruggs Recommendations: College ranking by Frederick E. Ruggs, a former guidance counselor; purely recommendations based on major and academic criteria.
Forbes College Rankings: Ranking criteria similar to U.S. News, however, considered less biased toward Ivy League schools.


People Who Read This Article Also Read:
3 Helpful College Search Resources
How Do I Find The Information I Need On These Huge College Websites?
How To Really Learn About A College
8 College Resources for Minority Students
How to Start Your College Search
Is an Ivy League College for You?

Advertisement
Visit Our Student Center

Get on track!
And find out everything you need to know about planning for college.
Advertisement