See All
Colleges >
What's a Good SAT Score or ACT Score?
What's a Good SAT Score or ACT Score?
Did you get a great test score? What score do you need to be competitive at top schools? We have the answers!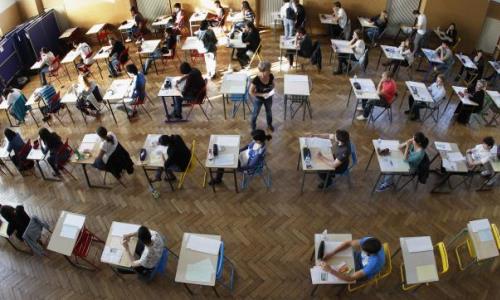 What's a good score on a SAT or ACT test? The truth is, it all depends on where you are planning to apply. The requirements for admissions to selective, private and public colleges and universities vary a lot among schools. The scores that are acceptable at one college or university might be low for others.
By using our college search or checking your prospective school's website, you'll get a better idea of what your schools consider a good SAT or ACT score. When using our search tool, just select a school and click the "admissions" tab to view test score requirements.
Even if you can get into school without a high SAT/ACT score, you should consider retaking the exams to try to get a higher score.
As you can imagine, the higher your score, the more chances you'll have to be accepted into various colleges and universities, but nothing is guaranteed. A high score can't guarantee you admission if your other academic attributes aren't up to par. On the contrary, high test scores, but low grades could indicate that you're highly intelligent, yet lazy in your schoolwork, which is not a desired trait in college applicants.
Average SAT and ACT Scores
The average score on the SAT in 2013 is around 1500, according to the CollegeBoard:
Critical reading:496
Mathematics: 514
Writing: 488
For the ACT test, the average composite test score for students in the U.S. for 2013 was 21.1, according to the ACT's stats. Here are the national averages for the other subjects:
English: 20.5
Math: 21.1
Reading: 21.3
Science: 20.9
Many universities or colleges will accept you with those scores (as long as your GPA and other supplementary materials qualify you), but for an Ivy League school, such as Princeton, Yale or Columbia, for example, an average score will usually be too low.
If your goal is to be accepted into one of these programs but your scores aren't high enough, you should probably retake the test to see if your scores improve, as this will make it more likely you will be accepted into a college degree program at one of these schools.
College Options for Students with Low SAT or ACT Scores
If your scores are below the average range, it doesn't mean you can't get into the colleges you desire; you just have to have other strong qualifications, like a solid transcript and high GPA. When you start your college search, try to find a college that offers test-optional admissions or doesn't place a high emphasis on standardized test scores.
If you are applying to a community college program, planning to attend a career college or considering a distance learning program that offers online degrees, you will probably not need high SAT or ACT scores. Most of these schools do not look at standardized test scores when making admissions decisions.
However, you should still take the SAT or ACT, as the tests can be used to determine placement in math and English courses. Plus, taking these tests now allows you the option of transferring to a 4-year college or university and pursuing additional degrees later, if you choose.
Quick Tips
Even if you can get into school without a high SAT/ACT score, you should consider retaking the exams to try to get a higher score. Higher scores can improve your chances of getting scholarship money and can provide you with the opportunity to transfer to a more elite school down the line, if you choose to.
For help improving your test scores, take a SAT or an ACT prep course.
Keep in mind that if you are applying to a state university as an out-of-state applicant, you will probably need higher SAT/ACT scores than in-state students, as these schools tend to give admissions preference to in-state applicant
People Who Read This Article Also Read:
SAT Subject Tests: the Essentials
ACT: The Essentials
SAT or ACT: Which Should You Take?
Should You Send All of Your SAT Scores to Colleges?

Advertisement
Visit Our Student Center

Get on track!
And find out everything you need to know about planning for college.
Advertisement