See All
Colleges >
College and Careers: A Guide for Parents
College and Careers: A Guide for Parents
How important it your child's choice of college for her future career?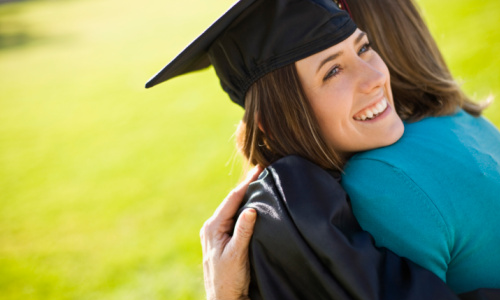 Photo: Thinkstock
If you're like most parents, you believe that if your child gets into an elite or selective college he is set up for a lucrative career after graduation. While this may be partly true, there are many other factors that go into choosing the best college for a career.
Your child's choice of major, school location and academic quality are also important aspects of choosing a college that will lead to a career.
In choosing a major for college, your child should first factor in her interests, abilities, strengths and weaknesses.
Choosing A Career-Focused Major
In choosing a major for college, your child should first factor in her interests, abilities, strengths and weaknesses. A person who is mathematically inclined might thrive in accounting. But if she is also interested in science, engineering might be her best option.
It's important to pay attention to the job market, which is constantly evolving to reflect the changing needs of society. For example, a huge number of students entered law school during the recent recession. Thus, law school might not be a good idea right now as the market is saturated with young lawyers.
According to Payscale.com, which compiles data on the salaries of jobs across the nation, the undergraduate degrees with the highest payback are in engineering; computer science and information technology; and business.
Once you pinpoint a major, the next step is to research which schools have the best programs for that major. Dartmouth College may have the highest paid graduates with a median compensation of $134,000 per year. But do they have the best performing arts program? Probably not.
Academic Quality
Academics are the foundation of a college education – and a career. During college your child will be learning the knowledge and skills to transfer into a career.
If you think that the best colleges for student-focused academics are in the Ivy League, think again. The Princeton Review reported the best colleges based on the best classroom experience. Here are the top 10 colleges from that list:
Mount Holyoke College in South Hadley, Massachusetts
Reed College in Portland, Oregon
Stanford University in Stanford, California
United States Military Academy at West Point in West Point, New York
Franklin W. Olin College of Engineering in Needham, Massachusetts
Wellesley College in Wellesley, Massachusetts
Williams College in Williamstown, Massachusetts
Sweet Briar College in Sweet Briar, Virginia
Pomona College in Claremont, California
Princeton University in Princeton, New Jersey

Location of College
Many of the most selective colleges and universities are located in the Northeast. However, it's not necessary to attend school in the Northeast in order to get a good salary.
In the Midwest, top earners include graduates of University of Notre Dame, Carleton College, The University of Chicago, Case Western Reserve University and Rose-Hulman Institute of Technology (RHIT).
In the South, graduates from Duke University, Washington and Lee University, Georgia Institute of Technology, Main Campus and Georgetown University enjoy a high starting rate. The majority of these well-paid alumni are in the fields of engineering, business and medical services.
The starting rates in the Western states (excluding California) are on average much lower than other areas of the country. As the West is less densely populated, there are fewer jobs for graduates. The two schools with the top starting median pay, Colorado School of Mines and New Mexico Institute of Mining and Technology, prepare students for a career in geoscience, a highly specialized career path.
As you can see, there are a variety of factors that determine the future of your child's career. While an Ivy League school might be the best choice for his career, it might not. Be sure to factor in these other aspects before making the final decision.
People Who Read This Article Also Read:
Can My Child Visit Colleges Alone?
College Drinking
College Student Housing: A Parent's Guide
Is Online Education Right for My Child?

Advertisement
Visit Our Student Center

Get on track!
And find out everything you need to know about planning for college.
Advertisement