See All
Colleges >
Is Medical School in Your Future?
Is Medical School in Your Future?
Take a look to find how to increase your chances of getting into your top medical schools.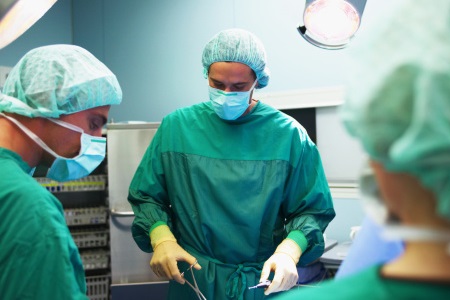 Photo: Thinkstock
By Merrissa Saunders
Thinking of applying to medical school to become a medical doctor (MD) or medical scientist (MS)? This is no small feat, as meeting medical school requirements demand a lot of work and preparation. When determining if med school is the right decision for you, first consider why you want to be a doctor. You will have to know for your interview anyway, but having this in mind during you application process will help you stay focused on your goals.
Most people begin applying to medical school in the summer before their senior year.
Talk to a doctor. Even if you don't know what you want to specialize in, talking to someone who works in medicine will help determine whether med school is the right move for you. You should also pick the brain of a medical student. Unlike a doctor, they are still entrenched in the fast-paced world of med school, so they will probably have some good advice to help you with your decision.
Now that you are certain med school is in your future, you're going to need help weaving your way through the lengthy process of applying to medical school. Read on to get a better idea of what will be expected of you, so that you can increase your chances of being accepted to your top medical school.
Medical School Requirements
About 90 percent of students apply to medical school at the end of their junior year of college, and some who have a strong grasp on the physical sciences, apply even earlier. Other candidates decide to work in the medical field for a few years to make sure it is right for them. For example, you may volunteer your time at a hospital, or go so far as to become trained as an Emergency Medical Technician (EMT).
Medical school requirements do vary from school to school, however there is a general standard that most students meet. Prospective medical students should have a bachelors degree, strong Medical College Admissions Test (MCAT) scores and an extensive course background in the hard sciences.
The MCAT is a standardized test that allows students to demonstrate their knowledge of the physical sciences and biological sciences, which you should have learned while pursuing your bachelors degree.
High school students who already know they want to pursue a career in medicine should start taking a heavy biology, chemistry and physics course load, while still in high school. This will provide you with a solid background to help with courses in your undergrad such as inorganic chemistry and physics.
Although it is not common, there are some medical school programs that accept bachelors degree holders who did not take courses in the hard sciences, but rather focused on the social sciences and humanities. For example, Mount Sinai School of Medicine admits students who have not fulfilled their physical science requirements or completed their MCAT. This is due to an attempt to graduate more well-rounded and people-oriented doctors who are adept to meet the needs of our evolving, multi-cultural society.
Medical School Admissions
When choosing a medical school, you should look at similar characteristics as you did in your college search. Pay attention to location, class size, school size, cost of tuition and financial aid packages. Additional criteria to look at include whether the medical school focuses on research or clinical practice and if they are connected to a university.
Here are some helpful tips to keep in mind when preparing your application for medical school:
Take the MCAT in the spring of your junior year. Most people begin applying to medical school in the summer before their senior year and you will most likely need those MCAT scores in order to complete your application.
Apply to at least 15 schools. This may seem like a lot, but considering that a medical school generally only accepts about 5% of applicants each year, you can understand why you would want to have a large pool of applications.
First, try to get accepted to a state medical school. These schools prefer to accept residents, and some exclude non-residents from the application process. If you have your heart set on moving to a different state, check into private medical schools that accept out-of-staters, such as Albany Medical College.
Many medical schools have a premedical advisor who aids students through the application process. Take advantage of this resource, as they may offer valuable advice.
Prepare for your interview. Have a clear understanding of why you want to become a doctor, and how your M.D. will help you achieve your professional goals.
Top Masters Degree Programs
Related Applying for Graduate School Articles
See All College Planning in High School

Advertisement
Visit Our Student Center

Get on track!
And find out everything you need to know about planning for college.
Advertisement