See All
Colleges >
5 Tips to Help You Choose a Major
5 Tips to Help You Choose a Major
Choosing a major can be very challenging. Learn some simple tips that will make your decision a lot easier.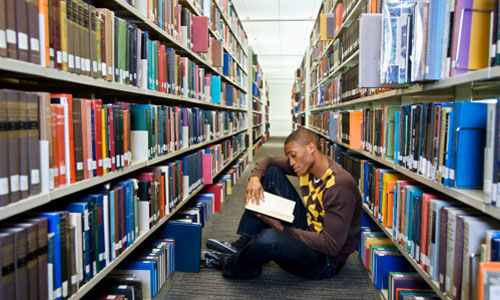 Photo: ThinkStock
While you're probably getting tired of people asking you: "What are you going to do for the rest of your life?" Figuring out your college major is an important step you'll need to take to begin answering that question for yourself. What you study in college will inform what you do for the rest of your life, whether you use your degree in your career or not.
With limited job options, having a degree to back up your skills is even more important than ever. So how do you do you choose a major? And how does that choice affect your future career? We can help guide you through the process of choosing a major.
Make a list of your likes and interests and then generate a list of majors that may pique your interest. Start by crossing out all of the majors you know you are not interested in.
What is a major?
Your major is your primary field of study in your undergraduate program. It is the subject in which you earn your associate's or bachelor's degree.
After completing a list of general education courses at the beginning of your program, you spend the rest of the time dedicating your studies to one subject of your choice. Roughly one-third to one-half of your courses will be related to your major.
When do you choose a major?
Most colleges allow you to wait until the end of your sophomore year before officially declaring a major, but many require you to choose when you first enroll. Check with your school to find out its policy so you can better prepare for your application.
For many students, it is best to try out different classes to figure out a major you'll like, but you need to have a couple of solid options (unless you're in a program that requires you to choose from day one). Once you have a better idea of which major you like best, you should begin taking courses you are required to complete before graduation. That way, when you're ready to declare officially, you'll have a clear perspective of the department and classes, so it will decrease your chances of needing to switch majors later because you already know what to expect.
How will your major help you develop a career?
While your major may or may not lead directly to a career, you should begin thinking about how your field will lead to a job as soon as possible. Consider clubs, internships, research programs and part-time jobs related to potential career options for your major.
Remember, degrees in liberal arts such as history can lead to a variety of careers, so you should work with a counselor to begin thinking about the types of jobs that interest you. For more career-specific majors such as nursing, accounting and engineering, the majority of your studies will include skills that can be used in a future job, but you should still consider doing activities outside of the classroom to better prepare you.
For those of you interested in math or the sciences, there are many different types of jobs in research, business and education. The sooner you begin working in a lab, on research projects or helping as a teaching assistant for a professor, the better you'll be able to figure out your career.
Popular Majors
As you think about your major, you should also consider which ones are most popular versus those that will lead to in-demand jobs that will increase your chances of being hired. According to a CNN study, the most popular majors for a bachelor's degree are:
Read more about popular college majors here.
Tips for Choosing a Major
Choosing a major is a personal choice and will affect your college education and career. Be sure that you choose a major that suits your interests, talents and goals for the future.
1. Set goals to keep you on track in your search for a major.
2. Make a list of your likes and interests and then generate a list of majors that may pique your interest. Start by crossing out all of the majors you know you are not interested in.
3. Check with your prospective colleges to see if they have any tools in place to help students decide their major. The University of Washington advises that students attend a Roadmap to Choosing Your Major workshop. Events such as this can help you make that list.
4. Take an assessment quiz, such as the one found on the University of Minnesota website, which offers an exercise based off a career assessment tool developed by the Psychological Assessment Resource (PAR).
5. Take into consideration what careers are predicted to have the most openings on the Bureau of Labor Statistics website. If any of them interest you, do some research to find out which majors can help you get that job.
Remember, though this is an important decision, it is not etched in stone. If you start taking classes within your major and find you're not enjoying them, switch classes or start trying classes in another major immediately. In fact, about two-thirds of undergraduates switch their major at least once, so keep that in mind as you take classes your first year.
In fact, for some majors there are classes that crossover and count for multiple majors. Try taking a class for two majors you consider and one that counts for both to see which you like best! If you can also get a general education requirement out of one or all three classes, that's a bonus!
Advertisement
Visit Our Student Center

Get on track!
And find out everything you need to know about planning for college.
Advertisement