See All
Colleges >
College Softball Powerhouses
College Softball Powerhouses
Find out which colleges and universities are the best among the NCAA softball ranks.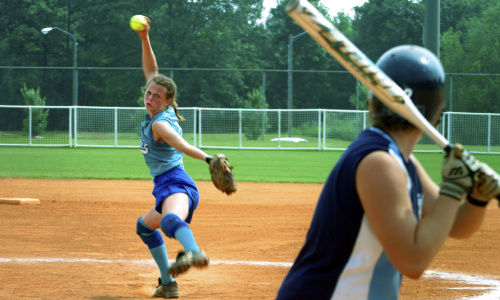 Photo: Thinkstock
Softball is one of the most popular women's sports. While you may find men who join recreational leagues in college, only women's softball is an official NCAA-sanctioned sport.
The women's College World Series was held in Omaha, Nebraska (the same site of the men's College World Series) from 1982 to 1987. For two years, the event was held in Sunnyvale, California. For the past 21 years though, the finals have been played in Oklahoma City, home of the Amateur Softball Association's Hall of Fame.
More than 600 universities sponsor women's softball teams throughout the NCAA.
More than 600 universities sponsor women's softball teams throughout the NCAA. This includes Division I, Division II and Division III. Also, many junior and community colleges have women's softball programs.
NCAA Softball
Official college softball is "fast pitch" (as opposed to slow pitch and "modified" fast pitch, the other styles recognized by the International Softball Federation). The throwing motion in fast pitch is that of an underhand windmill; it is considered the most difficult form of softball, with pitches reaching speeds of 75 mph.
The top five teams in the 2011 Division I college softball rankings were Arizona State, Georgia, Texas, Alabama and Missouri. The Pacific-12 conference has dominated the national championships, as Arizona State (twice), UCLA, Washington and the University of Arizona (twice) have won the past six College World Series. This year was no different, as seven teams were ranked in the top 20 at the end of the 2011 season.
The University of California, San Diego, won the 2011 Division II championship, while Linfield College won in Division III.
Scholarships
College softball is an equivalency sport, meaning most athletic scholarships are partial rather than full rides. This is due to the limited number of scholarships available. Division I schools can only hand out 12 scholarships total for softball. Therefore, coaches split partial scholarships among players to fill out the roster and maximize the amount of talent on the team.
Community College Softball
The National Junior College Athletic Association (NJCAA) operates similarly to the NCAA, except it is for junior and community colleges. Like the NCAA, softball is offered only as a women's sport and teams are divided into three divisions. Yavapai College, Louisiana State University, Eunice and Gloucester County College won the Division I, II and III championships.
Club and Intramural Softball
If you're looking for a less competitive environment, consider joining an intramural softball league. Schools hold men's, women's and coed leagues. Softball is one of the most popular recreational league sports for college students and adults, and you can find leagues held by specific departments and majors. For example, Cornell University has a Law Softball Club.


People Who Read This Article Also Read:
Where Did American World Cup Stars Go to College?
The Best Schools for Men's College Rugby
The Worst College Sports Teams
Where Did American Olympic Athletes Go to College?
College Bowling
Top 10 Weirdest College Mascots
Skateboarding in College: The Best Schools to Ride a Rail
Club Sports in College

Advertisement
Visit Our Student Center

Get on track!
And find out everything you need to know about planning for college.
Advertisement