See All
Colleges >
How to Get the Most Out of Your TA
How to Get the Most Out of Your TA
Learn how to effectively interact with the TA in your large college classroom.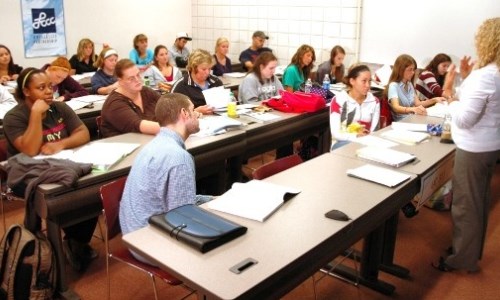 If you recently graduated from high school, you're probably used to directly interacting with your teachers; as a result, you may feel unsure about how to effectively engage your new college teaching assistants. Read on to learn how to get the most out of your TAs, a tactic that will help you adjust to your large college classes.
Understanding how to effectively interact with teaching assistants means you can use them as an important tool in your quest to become a successful college student.
What is the role of a TA?
Large classes usually result in high student-to-teacher ratios, making it hard for students to interact directly with their professors. To bridge this gap, TAs work under college professors, helping them plan lessons, keep records, grade tests and papers, and provide students with extra help. As a student, you'll mostly interact with your TA via extra study sessions and one-on-one instruction.
TA positions are usually filled by graduate students pursuing their own degrees. Sometimes, undergraduate students who have already excelled in a certain class can become TAs as well. Undergrad and grad students often take TA jobs in exchange for free or reduced tuition. Many are interested in becoming teachers themselves, so these positions provide them with valuable hands-on experience in their chosen fields.
How can you get the most out of your TA?
To use your TA in an effective way, attend as many of his or her office hours and study sessions as you possibly can. Prepare thoughtful questions and discussion topics beforehand, especially if you feel confused about a particular concept or assignment. It's your TA's job to assist you however possible, so don't be afraid to express all of your questions and concerns.
Don't feel intimidated by your TA; instead, view this person as a smart classmate who's ready and willing to help you. TAs may be slightly older, but they're students as well, so they can relate to you and your struggles more than your professor can. Ask your TA to share tried-and-true study tips and tricks -- he or she probably has tons of great advice that your professor wouldn't think to offer.
You can also look to your TA for different perspectives on the material your teacher has presented. Dissecting these different viewpoints will enhance your understanding of the material and create for a more interesting learning experience. Your TA may also be able to explain a concept in a new, refreshing way, helping you understand something that had you confused in the classroom.
Now that you know how to effectively interact with teaching assistants, you can use them as an important tool in your quest to become a successful college student.
People Who Read This Article Also Read:
Teaching Assistants
4 Ways to Make the Most of Your Professor's Office Hours
5 Ways to Stand Out in a Large Class
How College Class Size Impacts Your Learning
Advertisement
Visit Our Student Center

Get on track!
And find out everything you need to know about planning for college.
Advertisement