See All
Colleges >
Small Schools vs. Large Schools: Which is Right For Me?
Small Schools vs. Large Schools: Which is Right For Me?
Find out which type of college campus is best for you.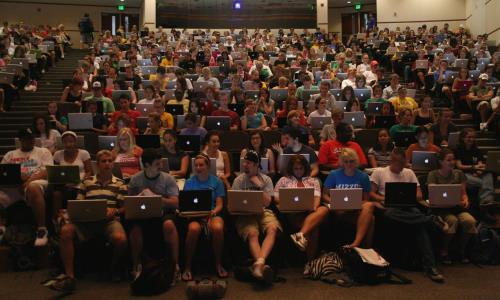 If you are a prospective college student planning to live on campus, you will have to consider far more than academics. Campus life is just as important as classwork in ensuring you have an enjoyable college experience, and one of the many important points of differentiation between colleges is campus size.
Some universities, such as Grinnell College, have a student population of less than 2,000. Others, such as Arizona State University, the University of Minnesota and Ohio State University have over 50,000 enrolled students.
When deciding between a large school and a small school, you will have to decide which campus experience best suits your personality.
This article will review some of the benefits of larger and smaller schools, in order to help you decide what kind of college is right for you. Campus size is one of the most common reasons that students transfer schools, so it is to your benefit to research this subject as much as possible.
Some of the most important factors to consider when choosing your school are:
Class Size
As you would expect, larger universities tend to have larger classrooms. Some lectures can have several hundred students, meaning you won't be able to ask many questions (if any) about the material. On the other hand, professors at smaller universities can hold more interactive discussions with the students. Discussions on larger campuses are usually overseen by Teaching Assistants.
Extracurricular Activities
While smaller schools may offer specialized extracurricular activities, the larger pool of students on bigger campuses often allow for more specific areas of interest. For instance, smaller colleges will have language clubs for Spanish and French speakers. A larger college can offer similar clubs for less common languages, such as Dutch, since you are more likely to find a group of Dutch speakers on a 50,000 person campus than a 2,000 person campus.
Student Interaction
On a smaller campus, your college experience can be much like your high school experience in that you will more than likely recognize the majority of the student body. On a campus of tens of thousands of people, this is less likely to occur. Both situations can make people feel comfortable and uncomfortable; you will have to decide which campus experience would better suit your personality.
Recognition
Larger colleges will have more name recognition due to their massive alumni bases and in some instances, notable athletic teams. The University of Michigan is well-known because of its large student body, high academic standards and nationally-known football team. With a student body of 2,000, Williams College in Massachusetts, for example, does not have the same national recognition, yet it is one of the best liberal arts colleges in the country, offering an education that is comparable to the University of Michigan. Name recognition and academic quality do not always coincide.
Libraries and Academic Resources
Larger universities tend to have multiple libraries as well as numerous speakers, panels and events. Smaller campuses offer these resources as well, but they will be fewer in number. It is also important to note that most colleges offer electronic databases of books and academic journals, so having less libraries at a smaller school isn't going to affect the level of education you'll receive.
Small Schools vs. Large Schools: Tips and Tactics
No matter what schools you decide to apply to, make sure you visit campuses during the application process. You may find that a campus is too big (or too small) for your taste when you see it in person.
Geography will probably have a big impact on whether you choose a larger or smaller school. The biggest schools are located in the south and midwest, while smaller schools tend to be scattered across the country.
If sports is important to you, either as a fan or as an athlete, school size can greatly influence your experience. Larger schools typically have more sports at higher levels. Smaller schools, while they can have a variety of sports as well, typically specialize in a few sports, at lower levels of competition.
People Who Read This Article Also Read:
Is An Urban Campus Right For You?
Should You Attend a Single-Sex College?
Explore All Higher Education Options: Types of Colleges
Private vs. Public College: Which is Best For Me?
Related Timeline Articles
Advertisement
Visit Our Student Center

Get on track!
And find out everything you need to know about planning for college.
Advertisement