See All
Colleges >
Foods to Avoid During Finals
Foods to Avoid During Finals
Make healthy food choices during exam time to avoid unnecessary energy crashes or increased stress.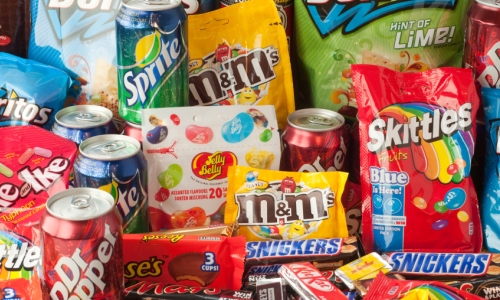 By Caroline Shannon-Karasik
When it comes to preparing for finals, a student considers every last detail, including the method in which he or she will study and the pencil that will be used to ace the test.
It is extremely important to stay hydrated during crunch time.
What about the foods you are pumping into your body? Studies show snacks, like nuts, milk and even a bit of dark chocolate can help reduce cortisol levels and anxiety, and increase feel-good serotonin levels, making test taking feel like a breeze. Here are few dos and don'ts when it comes to noshing during finals week.
Foods That Could Fail You During Finals Week
Kristi King, registered dietitian and spokesperson for the Academy of Nutrition & Dietetics, said the following are a list of foods that can lead to fuzzy memory, fatigue and moodiness during finals week:
Caffeinated beverages, such as soda and energy drinks

High sugar foods, such as cookies, candy, ice cream, etc.

High sugar-containing cereals

Regular chips

Greasy foods, such as pizza and hamburgers

Fried foods, such as french fries or chicken nuggets

King emphasized that overeating can make one feel uncomfortable and bloated, making it difficult to focus.
"Many college students studying for exams find themselves pounding the coffee, energy drinks, or soda in hopes that it will actually provide the energy and focus they need to make it through the week," she said. "It is actually best to consume caffeine only in moderation and instead focus on staying hydrated by consuming adequate amounts of water. Caffeine can increase anxiety, making it difficult to concentrate, as well as irritability and fatigue when coming off the caffeine 'high.' If too much caffeine is consumed prior to the exam, one could start having withdrawal symptoms during the middle of the exam, making an unpleasant experience even more unpleasant."
Foods to Help Ace the Test
On the other hand, King said there are a number of foods that can actually help a student during finals week, including:
A nut mix, such as cashews, almonds, pecans, brazil nuts, etc.
"Having a handful of nuts will help to provide selenium, which is a trace element that plays an important role as an antioxidant in the body," she said. "Selenium helps to clear your brain - literally - by removing some of the plaque that may be building up. Add some dried fruits to the handful of nuts for an extra boost of energy!"
Fresh fruits and veggies, especially bananas, citrus fruits, and dark leafy greens
"Bananas tend to be a great source of quick energy, as the natural sugars are broken down fairly quickly," King said. "To prevent an energy 'crash' it is best to pair it with some type of protein like peanut butter or Greek style yogurt."
"Citrus fruits, like oranges, provide great energy and Vitamin C which can be especially helpful in boosting immunity during the stressful time of finals when students tend to not take great care of themselves," she said. "Dark leafy greens provide iron, which many college students lack in the first place. Grab some extra greens at the salad bar for lunch or dinner to help fight fatigue."
"It is extremely important to stay hydrated during crunch time," King said. "Someone who is well hydrated will find that they have much more energy than those who don't consume enough water during the day." A student's "best bet is to drink six to eight cups of water per day and focus on taking time for sleep," King said. "A well-hydrated body and clear mind can't be beat."
Quick Tips
Snack on nuts and antioxidant-packed dark chocolate to keep stress at bay during finals week.
Fresh fruits and dark, leafy greens are great add-ins to daily meals in order to boost brain power.
Avoid overdosing on caffeine to keep from increasing anxiety, irritability and fatigue.
People Who Read This Article Also Read:
7 Best Study Tips for College Students
Finals: Balancing College Exams and Essays
3 Finals in 2 Days: Maximize Study Time
5 Study Tips for Tactile Learners

Advertisement
Visit Our Student Center

Get on track!
And find out everything you need to know about planning for college.
Advertisement