See All
Colleges >
College Planning for Undocumented Students
College Planning for Undocumented Students
Undocumented students can still make their college dreams come true with some extra help and guidance.
For undocumented students, the process of planning for college may be a bit daunting. These students face unique obstacles that may make them hesitant about pursuing a college degree. As a counselor, you can use the following resources and information to make sure these students see college as an attainable option.
Undocumented students should be made aware that there is no federal law which prevents U.S. colleges from admitting undocumented students.
Identifying Undocumented Students
Because undocumented students may be wary of speaking with authority figures about their immigration status, counselors may have to approach students personally. It's important to reassure these students by informing them that, according to the Family Education Rights and Privacy Act, school officials cannot disclose their personal information – including immigration status. According to Educators for Fair Consideration (E4FC), counselors should keep the following tips in mind to help them identify undocumented students:
Undocumented students do NOT only:
Come from Mexico or Latin America
Have strong accents
Take ESL classes
Undocumented students OFTEN:
Use a passport as their primary form of identification
Refuse to participate in prestigious programs despite high academic achievements
Resist applying for government financial aid even when they're low-income
Fail to get driver's permits even though they've passed driver's education"
Laws and Policies
Undocumented students should be made aware that there is no federal law which prevents U.S. colleges from admitting undocumented students. However, colleges can set their own rules for admitting undocumented students. Therefore, it's important to research the policies of each college the student is interested in attending. Because students may be hesitant to inquire themselves, counselors can offer to obtain this information for them.
Several states have also passed laws that make college more affordable for undocumented students. These laws guarantee that undocumented students can pay in-state tuition rates when they graduate from an in-state high school, as long as the student signs an affidavit stating that they have already applied to legalize their status or will do so as soon as they become eligible. The following states currently have laws of this kind:
California
Colorado
Connecticut
Illinois
Kansas
Maryland
Minnesota
Nebraska
New Mexico
New York
Oklahoma
Oregon
Texas
Utah
Washington
Laws affecting undocumented students continue to change, however. Counselors should check the National Immigration Law Center to get up-to-date information about laws concerning these students.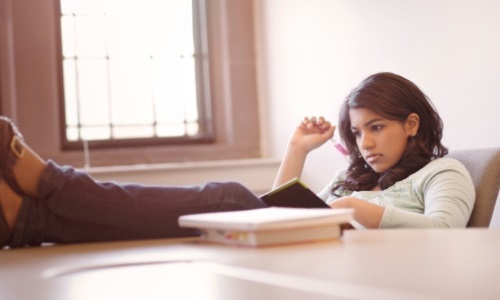 Financial Aid
Obtaining the funds to pay for college can be trickier for undocumented students, but it's certainly not impossible. Unfortunately, a student must be a U.S. citizen or an eligible noncitizen in order to receive federal financial aid. However, some states offer financial aid to undocumented students and/or offer in-state tuition rates which make college more affordable.
Other funding can be found by seeking out scholarships. Undocumented students will need to research the requirements for each scholarship, as some award funds to undocumented students and some do not. In addition, private colleges often have special funds available for undocumented students.
Applying to Colleges
After confirming that a college or university admits undocumented students, it's time to send out applications. Generally, undocumented students fill out the application exactly like any other student. On some applications, students may be asked about their citizenship status. Remind students that it is imperative that they do not lie about their citizenship status on any forms or applications. You may need to contact the college regarding specific application issues (such as whether to leave social security number requests blank, or which box to check in a section inquiring about citizenship).
In addition, it can be helpful to create a positive tone in a college essay or admissions interview when it comes to discussing immigration status. According to the Financial Aid Guide for College-Bound Undocumented Students, students should avoid framing themselves as a victim and focus instead on how they've overcome challenges and succeeded. Students' immigration status should not define them or overshadow their accomplishments and motivation.
Career Paths
While it's important to encourage undocumented students to pursue their college dreams, it's equally important to advise them about practical career goals. Undocumented students should be aware that pursuing certain professions can be difficult due to the required certifications or state licenses. For example, teaching, nursing and criminal justice generally require background checks, social security numbers and/or state examinations. Inform students about these requirements to help them form realistic career paths suited to their situation.
Helping students who are undocumented poses an added challenge for counselors. However, it's important to seek out and assist these students who may be thinking about skipping college for fear of exposing their immigration status. Counselors looking for additional information should consult the Repository of Resources for Undocumented Students offered by the College Board.
People Who Read This Article Also Read:
College Planning and Teen Parents: How to Help
How to Counsel Students Without Parental Support
Working With Your Child's College Counselor
How to Work With Truant Students
Advertisement
Visit Our Student Center

Get on track!
And find out everything you need to know about planning for college.
Advertisement