See All
Colleges >
Best Colleges for Mountain Biking
Best Colleges for Mountain Biking
You don't have to go to school on a mountain in order to mountain bike. Find out which colleges have access to great mountain biking trails and mountain biking clubs.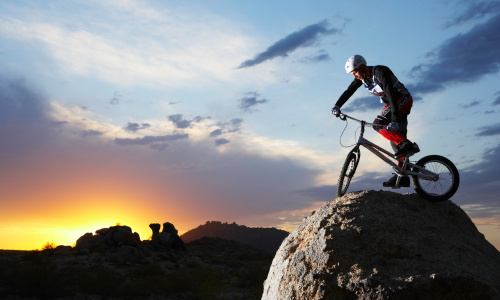 Photo: Thinkstock
College is a great chance for students to come together through all types of common interest. Like swimming, skiing or cross-country, mountain biking is an individual sport that unites students to form a team of like-minded people. Even if you're just pursuing mountain biking as a hobby, you can still go out with friends or join a club as a way to meet new people.
For a school to be named a good college for mountain biking, it's going to need proximity to some rough terrain. You don't necessarily need mountains to ride a mountain bike, but mountain biking is all about making it through rough conditions that regular bikes wouldn't be able to manage.
The NCAA doesn't recognize mountain biking as a sport, but the National Collegiate Cycling Association does.
The NCAA doesn't recognize mountain biking as a sport, but the National Collegiate Cycling Association does, and it governs 10 conferences and five types of cycling. A college could also just have great mountain biking clubs to join or even compete on an intramural level.
Fort Lewis College- Durango, Colorado
Fort Lewis College is known as a mountain biking powerhouse throughout college circles. Their cycling team has won 13 NCCA (not to be confused with the NCAA) Division I national championships. The mountain biking team functions as a club sport, so anyone is allowed to join, and the school has started providing the team with funding. Fort Lewis College is right next to the Telegraph trail system and riders use those trails to train for competition.
Warren Wilson College- Swannanoa, North Carolina
Located close to Asheville, Warren Wilson is a perfect school for college mountain biking. In 2010, they placed third overall in the mountain biking national championships for Division II. Only Brevard College, also in North Carolina, and Union College, in Kentucky, did better. Warren Wilson doesn't offer football or baseball, but their mountain biking is a varsity team. If that sounds like your kind of school, be sure to check out the trails in the Blue Ridge Mountains.
University of Colorado- Boulder
The University of Colorado – Boulder competes in NCCA Division I tournaments along with fellow Coloradans at Colorado State University. While CSU finished sixth overall last season, CU Boulder came in second in the national championships. If you're a mountain biking aerospace engineer, the university has a good program for you, and graduate students should take note that US News and World Report ranked four of their specialty graduate programs in the top 10, including quantum physics and physical chemistry.
California Polytechnic- San Louis Obispo
While this list could go on with another dozen schools from Colorado and North Carolina, which tend to dominate the national rankings,California Polytechnic (CalPoly) is a west coast school that also takes college mountain biking seriously. People looking for great trails can check out Stenner Canyon and "The Great Loop," a 6.5-mile beginner trail that's great for students who want to give mountain biking a shot.
Although CalPoly finished fourth last year at the NCCA Division I National Championships, that's only a small part of why this school is great. CalPoly has amazing engineering programs that rank tops in the country among public schools for Electrical, Computer and Mechanical Engineering. Additionally, their Industrial, Aerospace, and Civil Engineering programs are all rated second or third in the United States.


People Who Read This Article Also Read:
College Bowling
Where Did American Olympic Athletes Go to College?
Student Organizations: An Overview
NBA Players Going Back to College
Academic Competitions for College Students
Where did your Favorite NFL Players go to College?
Best Colleges for Hiking
Where Did Pro Baseball Players go to College?

Advertisement
Visit Our Student Center

Get on track!
And find out everything you need to know about planning for college.
Advertisement