Best Surf Colleges
Surfing can be a great way to blow off steam between classes. Find out which schools make it easy to catch a wave.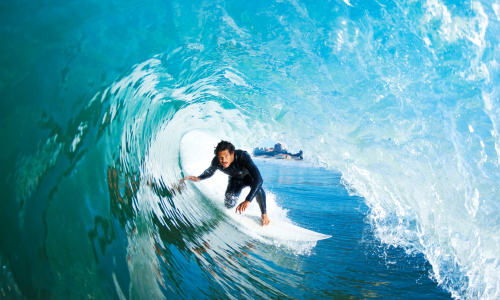 Photo: Thinkstock
Surf colleges may not be as common as football colleges but still there are plenty of colleges that have surfing teams that compete regularly, and at a high level of competition.
There are plenty of great surfing schools on either coast, but, due to the consistency of California's surf, the majority of them are located on the west coast.
What Is a Surf College?
A surf college might be defined as any college that is located next to great surf sites. A surf college isn't necessarily required to have an official surf team, but generally, a good surf college will have some sort of school or club team, or have a good surfing scene nearby.
Of course, you want to make sure you're getting a quality education as well, whether you're a beginning surfer or aspiring to compete.
There are plenty of great surfing schools on either coast, but, due to the consistency of California's surf, the majority of them are located on the west coast. Below are some of the most well-known campuses that boast access to surf – and a good education.
University of California - Santa Barbara
Even though UCSB has a reputation for being a party school, the academics are as intense as the surfing. The great point break Rincon is just down the road and you can see the beach from pretty much every spot on campus, as long as you're not in a classroom (Don't forget to go to class!). UCSB is also known for its marine biology and business programs, as well as known to surfing enthusiasts for how many new surfers crowd the popular surf breaks.
University of California - Santa Cruz
Just like the other UC schools, University of California, Santa Cruz offers in-state tuition for California residents – making it a more affordable option. Just down the hill from campus is the well-known surf spot Steamer Lane. And up and down the central coast of California are a host of lesser-known spots that can offer a bit of privacy away from the crowds.
Santa Cruz is renowned for its liberal politics, but it also has a respected marine biology program. Plus, you've gotta love their mascot: Sammy the Banana Slug.
University of California - San Diego
Seeing a pattern? Affordable in-state tuition, some of the best surf in the nation, and one of the best marine biology programs in the country. UC – San Diego has it all. The surf spot Black's is just a short hike away from campus and the coast of San Diego offers a wealth of surf with a few miles. The average high school GPA of students is typically 4.0 (weighted), which means you've got some studying to do if you want to come and surf here.
Pepperdine University
While it's a relatively small school that not everybody has heard of, Pepperdine University offers one great advantage for surfers: a bird's-eye view of Malibu's famous surf point. While you'll probably never surf it without a crowd, Malibu is still known for its clean rights and its rich surfing history. With an almost equal number of undergraduate and graduate students, Pepperdine offers grad students a chance to catch waves as well.
College of Charleston
If you're tired of all the California schools, why not try College of Charleston in South Carolina. While you won't find this on any of the old "best of" surf school lists, this school has a young program that's already becoming great. The college surf team won the East Coast Championships the very first year they were held.
University of Hawaii
You can't talk about surfing without thinking about Hawaii. While they may not host an official surf team, Hawaii offers some of the world's greatest waves. Located just up from Waikiki, the University also offers access to the great waves on Oahu's North Shore.
While the University of Hawaii also gets a reputation for being a party school, being smack dab in the middle of an ocean and two giant continents makes for a prime location for an international business program. There are even anthropology classes that cover the history of surfing.


People Who Read This Article Also Read:
College Bowling
Where Did American Olympic Athletes Go to College?
Skateboarding in College: The Best Schools to Ride a Rail
Best Colleges for Field Hockey: From Intramurals to the NCAA
Best Colleges for Hiking
Best Colleges for Mountain Biking
Fishing in College: Clubs for Anglers
The Weirdest College Sports

Advertisement
Visit Our Student Center

Get on track!
And find out everything you need to know about planning for college.
Advertisement