See All
Colleges >
Tutoring: How It Can Help You Get Into College
Tutoring: How It Can Help You Get Into College
Learn how tutoring can help improve your grades and your chances of getting into college.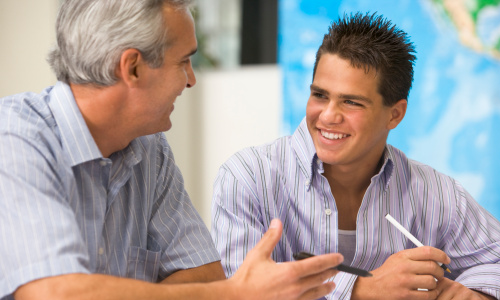 Photo: Thinkstock
You've made the decision to go to college. You know you need to focus on your high school academics. But…your grades just aren't where you want to them to be.
So what can you do?
Getting academic help is easier than you might think. Tutoring is a great option for students looking to boost their grades and up their college acceptance chances.
With all the different types of tutoring available, every student should be able to find a service that helps her reach her academic goals.
While there are many options available, each student should consider her individual needs (and personal finances) when deciding what kind of tutoring to seek.
Private Tutoring
Private tutoring may be the ideal way to get help with your classes due to the intimate, one-on-one attention that you'll receive and the strong student/tutor relationship that can develop. A specific program tailored to your individual academic needs is an integral part of a private tutoring program.
However, a few things about private tutoring might make you rethink whether or not it's suitable for you. For instance, a professional tutor typically charges between $20-$75 an hour. Experienced specialists in math or chemistry subjects may charge even more. Remember: all tutors are not created equal. You'll want to consider a tutor's expertise, availability and personality when choosing the one that's right for you .
Often, private tutors are former teachers or current college-level students. You might even be able to find a neighbor or relative willing to help with certain subjects.
School Tutoring
High schools may offer students opportunities to get instructional help and should be utilized by all students whenever possible. Even if you're a strong student, a tutor might be able to help you improve in one particular area – such as writing or science. When it's available, high school tutoring is free and on campus, making it convenient and affordable.
The downside of this type of tutoring is you might not get the personalized, one-on-one attention you are seeking. Sometimes, sessions will include a large group of students and one instructor. You'll need to evaluate whether the benefits of this kind of tutoring are substantial enough to be worth your time.
Tutoring Centers
Going to a tutoring center (some examples include Sylvan Learning Centers, Huntington Learning Centers and Kumon Learning Centers) has definite benefits. One big draw of these larger centers is the courses that can prepare you for standardized tests. Tutors with a variety of expertise are available so students can get the kind of help they need. Many of these centers use tests to determine a student's strengths and weaknesses so instructors can offer help in specific areas.
The downside is that larger centers can cost as much as $150 a week, which is usually paid on a weekly or monthly basis. Extra work is often assigned, which can be added pressure in addition to your normal homework assignments. And since programs are standardized, the teaching methods, speed and material might not suit your particular needs.
Online Tutoring
Online tutoring can be a great resource – it's convenient, affordable and flexible. Online tutoring programs offer interactive tutorials, homework help in specific subjects, and step-by-step guides to key academic activities such as writing papers. Students needing help in math, English and the sciences will benefit especially, as they are the most popular subjects for online tutoring.
The greatest flaw of online tutoring is its inability to offer a custom program for your personal needs. And while online tutoring is fairly affordable, it's not free. Pricing can vary from a $20-$50 per hour for one-on-one interactive help, to charges per month, per minute or per individual service (e.g. per essay).
With all the different types of tutoring available, every student should be able to find a service that helps her reach her academic goals.


People Who Read This Article Also Read:
What is a GPA?
What is a High School Transcript and Why is it Important?
Valedictorians: Who Are They and How Are They Chosen?
Basic High School Graduation Requirements vs. College Preparation
AP Classes: An Introduction
What's an International Baccalaureate?
Taking College-Level Classes Outside Your High School
Taking Vocational Courses in High School

Advertisement
Visit Our Student Center

Get on track!
And find out everything you need to know about planning for college.
Advertisement