See All
Colleges >
College Towns: Tucson, Arizona
College Towns: Tucson, Arizona
Learn more about Tucson, Arizona - home of the University of Arizona.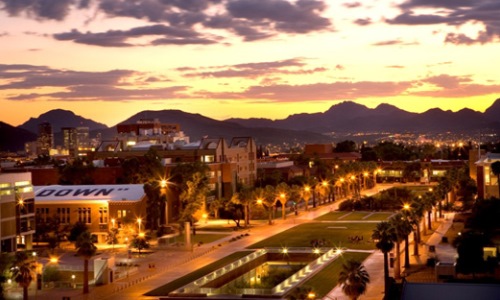 The Town: Tucson, Arizona
Lying 118 miles southeast of Phoenix and 60 miles north of the Mexican border, Tucson offers a combination of urban activity and suburban comfort. Tucson is home to 520,000 residents, making it one of the largest college towns in America.
Located on the Santa Cruz River, Tucson is surrounded by a plethora of gorgeous mountain ranges, including the Catalina, Rincon, Tucson and Santa Rita. A typical desert environment, you can expect heat year round, but being dry heat, you'll have warmer days and cooler nights.
As you pull into campus, you'll see a giant "A" on the top of Sentinel Peak. About 30,000 undergraduate and 8,400 graduate students are enrolled at the University of Arizona. One of the most unique features of the campus is the nearby Davis-Monthan Air Force Base, where you can see a fleet of retired B-52 bombers.
The men's basketball program is one of the best in the country, at one point getting an invitation to an astounding 25 consecutive NCAA tournaments and winning the national championship in 1997. The Wildcats are members of the Pacific-12 conference.
What to Do:
As a freshman, part of your coronation into the student body will entail repainting the "A" on Sentinel Peak, a tradition that occurs every fall semester.
Tucson is a bike-friendly area, and for many students that's the preferred method of transportation around campus.
The Tucson community hosts numerous large festivals and events throughout the year, including the Tucson Rodeo, named the Fiesta de los Vaqueros. Additionally, thousands of people meet downtown in costume for the Day of the Dead All Souls Procession.
Where to Eat and Drink
No trip to Tucson would be complete without sampling some of the fine Mexican cuisine. If you're on the go, stop by the Anita Street Market. Primarily a tortilla factory, you can get take out and enjoy a meal by the University of Arizona mall.
Looking for a nicer, sit-down environment? Café Poca Cosa serves traditional Mexican cuisine, where you can stuff yourself on their giant, home-style portions.
Did You Know?
No school has had more NBA draft picks since 1989 than the University of Arizona. Draftees have included Gilbert Arenas, Andre Iguodala, Richard Jefferson and Channing Frye.


People Who Read This Article Also Read:
San Luis Obispo, California
Boulder, Colorado
Charlottesville, Virginia
Grand Forks, North Dakota
Tallahassee, Florida
Gainesville, Florida
Eugene, Oregon

Advertisement
Visit Our Student Center

Get on track!
And find out everything you need to know about planning for college.
Advertisement