See All
Colleges >
College Volleyball: From Intramurals to NCAA Champions
College Volleyball: From Intramurals to NCAA Champions
Find out which colleges and universities are the best of the best among the men's and women's NCAA volleyball ranks.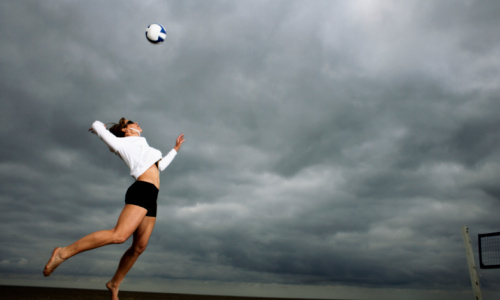 Photo: Thinkstock
Hawaii's Jonas Umlauft had more kills than any other collegiate in 2010. Don't worry, he's not a fugitive or a criminal. Rather, he averaged 5.57 kills per game for his volleyball team. Both men's and women's volleyball are official NCAA sports. Because volleyball is one of the most popular recreational activities among college students, almost every university has some form of intramural volleyball.
You can be chasing a national championship or looking for a leisurely weekend activity, but either way you can find a way to stay involved with volleyball in college.
Nearly every university offers volleyball leagues to its students, ranging in levels of competitiveness.
Top NCAA Volleyball Programs
Both the men's and women's Division I volleyball champions hailed from the Big 10 conference, as Ohio State University and Penn State University won their respective titles.
Each championship match was steeped in drama. Ohio State had a seven-game losing streak against the University of California, Santa Barbara, going into the championship match, but the Buckeyes were able to vanquish any demons to win the school's first national title in men's volleyball. California was undefeated heading to the finals, but Penn State swept the Golden Bears to win a fourth consecutive women's volleyball championship.
Scholarships
Scholarships are more readily available for women than for men. Women's volleyball usually receives the same amount of attention and financial aid as men's basketball. Much of this has to do with interest. Though men's volleyball is an NCAA sport, D-I and D-II schools are combined in order to round out a whole division. There are 22 Division I men's programs, compared with 311 women's.
You can view the NCAA Sports Sponsorship listings to see all the schools that offer financial aid to volleyball athletes. Be proactive in your recruitment: Let coaches and programs know you are interested.
Club and Intramural Volleyball
While volleyball is an NCAA-sanctioned sport, not every school will sponsor a team. Nevertheless, nearly every university offers volleyball leagues to its students, ranging in levels of competitiveness.
Almost every university has at least one indoor or outdoor volleyball court on campus. All you need to do is buy or rent a ball, get some friends together, and you can start playing.

People Who Read This Article Also Read:
Where Did American World Cup Stars Go to College?
The Best Schools for Men's College Rugby
College Softball Powerhouses
Where Did American Olympic Athletes Go to College?
College Bowling
Top 10 Weirdest College Mascots
Skateboarding in College: The Best Schools to Ride a Rail
Club Sports in College

Advertisement
Visit Our Student Center

Get on track!
And find out everything you need to know about planning for college.
Advertisement