See All
Colleges >
Are There Family Friendly Graduate Schools?
Are There Family Friendly Graduate Schools?
Find out which schools are most accomodating to graduate students with children.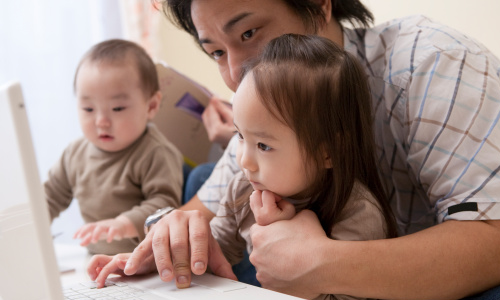 Photo: Thinkstock
While many colleges and graduate schools have made strides accommodating tenured female professors who decide to start a family, they have historically been less lenient with parenting graduate students. Forty years ago, if you had children before, during or shortly after earning a graduate degree, your chances moving to top positions decreased significantly. People, especially women of childbearing age, were discouraged from getting masters degrees or PhDs if they were already or planned to be parents.
In order for a parenting graduate student to get any benefits from their school in the past, it was necessary to haggle with professors and the department heads. Negotiations were strictly on an individual basis. Opponents of these policies argue that the individual should decide whether they are able to handle the responsibilities of having a family while attending graduate school.
In addition to finding the best graduate program for your career goals, you also need to consider your family's needs.
As a response to these criticisms, graduate schools have added in family friendly programs to aid their student-parents. Many of the country's top schools have added policies to benefit students who are starting families during their graduate program.
Services to Look for in a Family Friendly Graduate School
The majority of graduate students enroll in school at age 24 and older. According to a US News report, almost one-third of graduate students are also raising families.
Here are several benefits that are offered to graduate students with families:
Paid maternity leave
Childcare support
Mortgage assistance
Health insurance
Family friendly campus housing
Family resource center
The truth its, most graduate schools will not have all benefits. But many will at least offer a few. It is up to you to decide which services will benefit your family the most.
Family Friendly Graduate Schools
In addition to find the best graduate program for your career goals, you also need to consider your family's needs. This will take more effort, but be worth it in the long run. You can't be a successful student if you're stressed out at home. To get you started on your search, here is a list of a few family friendly graduate schools:
The University of Texas System
Winston-Salem State University
Online Graduate School for Parents
One of the reasons why so many adult students are turning to online graduate schools is because of the flexible schedules that allow time to tend to other responsibilities. Sure, getting an online masters degree or PhD is still taxing and will require a great amount of discipline and diligence. However, most programs only provide you with weekly deadlines, which means that you can read or watch your lectures, participate in discussions and complete your assignments on your own schedule.
When you earn your graduate degree online, you can work from any location. For this reason, new mothers and fathers and parents who are caring for young children may find it easier to attend online graduate school.


People Who Read This Article Also Read:
Why Should You Attend Graduate School?
What are the Differences Between a Masters Degree and a Ph.D.?
What Is the Difference Between a Thesis and a Dissertation?
Graduate School Jargon
What to Expect From Graduate School
Changing Careers with a Master's Degree
Life After Graduate School
How to Juggle Graduate School, a Career and a Family

Advertisement
Visit Our Student Center

Get on track!
And find out everything you need to know about planning for college.
Advertisement