See All
Colleges >
How Does Modern Technology Affect College Readiness?
How Does Modern Technology Affect College Readiness?
Find out why being tech savvy can help set you up for a successful college career.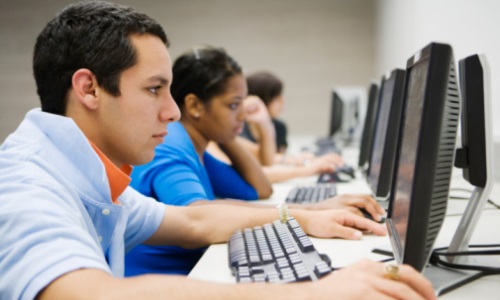 Photo: Thinkstock
Plenty of kids and teens spend a significant portion of their day glued to a screen, especially computers and phones. The good news is that all of that screen time can actually be beneficial to a student's college experience. By learning about various technological devices and uses before college, students are more prepared for the modern-day expectations in higher education and beyond. To find out more about how technology affects college readiness, we spoke with Wendy Flynn, a college admissions consultant and founder of MBA Admissions Coach. See what she has to say about some of the key technological proficiencies for college students.
Online College Courses
Today, online classes aren't just for college students. An increasing number of high school students are taking college courses online to get a jumpstart on their college credits. In fact, the National Alliance of Concurrent Enrollment Partnerships (NACEP) reports that students in four out of five high schools take college courses -- most without having to leave their high school -- thanks to on-campus instructors and online courses. The immediate benefits of these classes are clear. According to Flynn, "As long as the online college course is from a reputable institution, there are definite benefits for high school students to take online college courses. The two primary benefits I see are 1) the ability to earn college credits before starting college officially, and 2) beginning to understand how college courses are different than high school courses."
Prospective college students should take advantage of every opportunity they have to learn about various technological devices and uses.
The NACEP notes that research studies link earning college credits in high school to an easier college transition and more momentum to complete a college degree after high school. Nikolai Vitti, Superintendent of Duval County Public Schools in Florida, also told the NACEP about the outstanding results for students taking online college courses in high school: "These courses create a college-going culture in high schools that motivate students to begin thinking about college and careers. This culture builds students' self-esteem and helps them to realize that they are actually college-ready."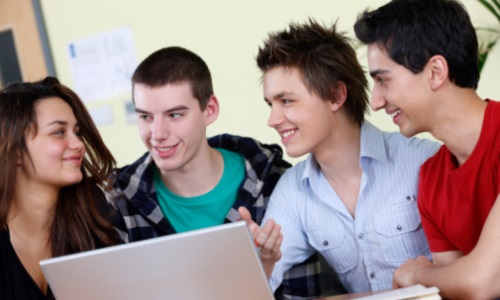 Photo: Thinkstock
Online Research Proficiency
While their parents did all of their research at their school library, today's college students are completing most of their research online. Fortunately, most students are fairly adept at online research upon their arrival at college. According to Flynn,"Today's students grew up in a world where they've always had access to the internet," which means internet research is second nature to many high schoolers.
However, there are some new challenges that students may encounter in college when it comes to getting reliable information online. One Pew study found that most teachers think that courses and content focusing on digital literacy should be incorporated into the school curriculum. With many school districts lagging behind in this area, some students may be unprepared for the strict research guidelines and thorough source vetting required in college.
But even if students are a bit behind upon enrollment, there's still plenty of help available. "Luckily, university libraries have staff available to guide students to the information they need," says Flynn. "Early each semester, campus libraries hold 'library orientation' sessions to teach students how to access their resources. And information and coaching is always available on a one-on-one basis."
Photo: Thinkstock
Collaborating with Peers Online
Online collaboration is something all college students are expected to have a handle on. Fortunately, many incoming freshmen are already pros in this arena. As Flynn says, "Today's students are already experienced at using collaborative online tools to share documents, find mutually agreeable meeting times, and create presentations."
There are major benefits to using this type of technology before and during college. According to eSchool News, "Online collaboration addresses a key 21st-century skill that many companies say they're looking for in their employees: the ability to work with others to solve common challenges. And there's evidence to suggest that students are more motivated to do high-quality work when they're working in groups with (and being judged by) their peers."
While online collaboration can be a great tool for students, there are pitfalls to watch out for here as well. Flynn suggests that a lack of in-person collaboration could be detrimental. "Today's students tend to communicate less on a face-to-face basis, and that's definitely a skill they need after college. It may be easier for a 'free rider' in a group project to coast along without significant contributions," she says. Furthermore, students can feel bombarded by school work without giving themselves a break. "Having 24-hour access to all of these tools can keep a student 'on call' at all times," says Flynn. "It's important for students to learn how to disconnect from technology so that it doesn't consume their time."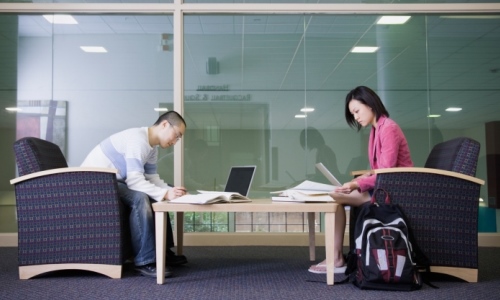 Photo: Thinkstock
Prospective college students should take advantage of every opportunity they have to learn about various technological devices and uses. In particular, students who don't have access to these items at home should seek out resources at school and in their community. As Flynn points out, "One of my most significant concerns about the broad adoption of technology as a communication tool is that students who don't have easy access to technology will suffer from the 'digital divide.'" Talk to a high school counselor to find out about resources available to students without access to tec
People Who Read This Article Also Read:
What is a Massive Open Online Course (MOOC)?
How MOOCs Can Help You Choose a Major
Colleges with Massive Open Online Courses (MOOCs)
How Online Education Offers a Valuable Solution in a Down Economy
Advertisement
Visit Our Student Center

Get on track!
And find out everything you need to know about planning for college.
Advertisement