See All
Colleges >
Truths and Myths About Fraternities and Sororities
Truths and Myths About Fraternities and Sororities
Find out what frats and sororities are really like to decide whether Greek life is right for you.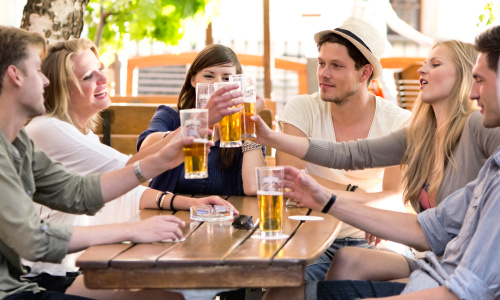 Photo: Thinkstock
Are you interested in joining a fraternity or sorority in college?
Fraternities and sororities can provide you with many of the amenities you're looking to get out of college, all in one place. The best houses provide you with a place to live, plenty of social gatherings, philanthropic work, recreational sports teams and study groups.
Don't buy into stereotypes of "bros" and "bimbos." It might be a surprised to you that people of all backgrounds choose to partake in Greek life.
Unfortunately, some houses, and movies such as "Animal House," give Greek life a bad name. While fraternities and sororities might sometimes push partying and hazing to excessive and inappropriate levels, most balance social life with academics to provide students with a well-rounded experience that touches on all areas of college life.
Rush
Rush is the period when prospective candidates meet with the various fraternities or sororities on campus to decide which house might appeal to them. The specifics vary depending on your school and gender. Rush can occur once or twice a year at the beginning of the designated semester or term. At UCLA, rush is the first week of the fall quarter, whereas at Brown, rush is the first five weeks of the spring semester. Other schools will have both a fall and spring rush.
The organization of rush can range from relaxed to more regimented. At the University of Wisconsin, fraternity rush is an informal process in which prospective members attend whatever rush events they choose until they receive and accept a bid. However, sorority rush requires registration, designated meeting times and a tour of every house.
Specialized Fraternities and Sororities
Certain fraternities and sororities have national and/or local academic, religious, and ethnic affiliations.
In addition to a standard interfraternity council, UCLA has separate Asian and Latino Greek Councils because of the large populations of both ethnicities on campus.
Alpha Gamma Rho is a professional fraternity, specializing in agricultural studies. In addition to the social benefits of the house, members are exposed to alumni associations and job networking events to assist with their careers post-graduation.
Zeta Beta Tau was founded as the first Jewish fraternity in the United States. Chapters offer services and events during prominent Jewish holidays.
Hazing
Almost every fraternity and sorority has some form of pledging for new members. For most houses, this simply means learning the history of the house and its members. Think of it as a vetting process to ensure that joining a house is right for you. Unfortunately, some houses take this too far with degrading and sometimes dangerous hazing.
Don't think that this is required if you want to join a house. You should never be forced to do anything you feel is dangerous to you or others. The consequences if caught in a hazing ritual can be dire: at Yale University, Delta Kappa Epsilon fraternity was banned from any on-campus activity for five years due to hazing and behavior infractions. If at any time you feel that you've been exposed to unnecessary hazing, cancel your bid and look for a house with a more friendly pledge process.
College Greek Life: Tips & Tactics
Don't buy into stereotypes of "bros" and "bimbos." It might be a surprised to you that people of all backgrounds choose to partake in Greek life.
Don't feel guilty about partying – within reason. Most fraternities and sororities host multiple social events throughout the school year. There's nothing wrong with enjoying a few drinks (assuming you're of legal age) in a social atmosphere so long as it's done in a reasonable and responsible manner.
If you missed your school's rush period, contact some houses and let them know you're interested in joining. You may have to wait until the next rush to become an official member, but they're likely to be accommodating until then.
People Who Read This Article Also Read:
College Hazing
Drinking in College: Do You Want a Party School or a Dry School?
Living in a Sorority
Fraternity Living: How to Survive Living in a Frat House
Drunk Driving: Staying Safe on College Campuses
Do Colleges Have School Dances?

Advertisement
Visit Our Student Center

Get on track!
And find out everything you need to know about planning for college.
Advertisement