See All
Colleges >
The Admissions Process: What Are Colleges Looking For?
The Admissions Process: What Are Colleges Looking For?
How to make your college admissions package stand out from the rest.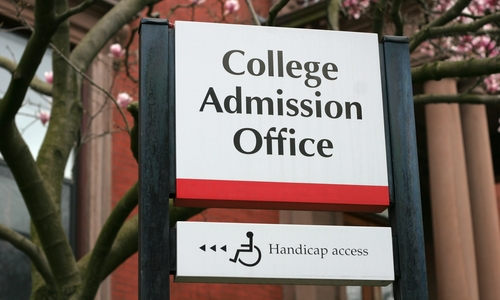 College admissions.
Those two words can strike terror into the hearts of high school seniors as they set their sights on college.
To get into the college of your choice, you may need to improve your ACT or SAT test scores. For additional help, take a ACT or SAT prep course.
But embarking on a college search doesn't have to be a stressful situation. Most colleges and universities are very specific about what they are looking for in their potential students. A little research will give you valuable information about how to put your best academic foot forward.
Basically, it boils down to these two questions:
What can you add to their school that other applicants can't? This could involve academics, leadership skills, and diversity in various forms.
Will you be able to handle their academic program and complete a degree successfully at their school? Colleges are looking to retain their students and help them complete their coursework and go on to successful careers.
If you can answer these two questions well in your application, you're on the right track to getting a college education at the school of your choice. Your goal should be to provide the admissions committee at any university or college with a complete and thorough application package, leaving them no doubt as to your qualifications.
Find the College for You
With all the colleges, universities, community colleges, accredited online degree programs and distance learning programs out there, how do you find the one that's right for you? A Campus Explorer college search will help you locate the types of schools you're looking for.
When you find a college, click the admissions tab to find out specific admissions requirements. You'll also be able to research specific majors and other school offerings, like MBA degree programs and other degrees. The more you learn about the schools you're applying to, the better you can tailor your application to what the admissions officers are looking for.
Figure Out How Well You Meet the Admissions Criteria
As you delve into your college search, you'll soon discover that each institute of higher learning has its own set of criteria with regard to the admissions process. A lot of what determines what colleges are looking for depends on their level of selectivity. A less selective college or community college focuses on whether a student meets minimum grade requirements and on how much room the school has for any new students. A more selective university will carefully consider your courses, grades, recommendations and essays when reviewing your application.
They want to know if you are up to the academic requirements of their university. At very selective colleges, they put a great deal of emphasis on your complete high school record and rely more heavily on non-academic factors to distinguish you, since many applicants will have similar academic records.
Do You Meet the General Requirements for Undergraduate Admissions?
As you're looking at colleges and universities and preparing your admissions application, make sure you focus on the following key areas of your high school record:
SAT/ACT scores and high school cumulative GPA (What is a GPA?): Schools tend to have minimum requirements for standardized tests and GPAs. Ask admissions counselors for their school's requirements or look on their official websites.
Record of Core Classes and credits earned: Most four-year schools want to see that you've successfully completed 4 years of English and 2 to 3 years of math, science and social studies.
Foreign Language: Some colleges require 2 to 3 years of a foreign language.
Extracurricular/Community Service Activities: In addition to your academic background, you should also include a summary of your extracurricular activities to show how well rounded you are.
Academic/Athletic Honors: Colleges are interested in the scholarly and athletic awards you achieved during your high school years, since these can be indicators of success in your chosen major or career path.
Perfecting Your College Application
Once you've learned what schools are you looking for, here's how to make your application look its best:
Application Essays: While an essay probably won't outweigh test scores or your GPA in importance, a compelling, well-written essay can make you more memorable to an admissions officer.
Teacher Recommendation: These should be letters from teachers who know your academic record and achievements and can speak to your character as a student and leader. Let your teachers know if there are certain traits or accomplishments you want them to mention in their recommendation.
Personal Interview: Some colleges or universities require a one-on-one interview with the admissions officer. This can either be a general interview for all applicants or more targeted interviews for finalists in the admissions process.
Quick Tips
To get into the college of your choice, you may need to improve your ACT or SAT test scores. For additional help, take a ACT or SAT prep course.
It's never too early to start building your admissions package. Don't wait until the spring of your senior year to begin your college search. Start pulling together your records and recommendations as early as your junior year.
Share your essay drafts with teachers and family members to make sure you catch any mistakes and present your topic, and yourself, in the best possible light.
Don't count yourself out unnecessarily. Just because a school has set admissions requirements for academics and test scores, it doesn't necessarily mean you won't get in if you don't quite make the cut. If you're close and excel in other important areas, you still have a chance of getting in.
People Who Read This Article Also Read:
10 College Application Tips You Need to Know
What Do I Need to Complete My Application?
Should You Submit the Online or Paper Application?
Should You Apply to College with the Common Application?

Advertisement
Visit Our Student Center

Get on track!
And find out everything you need to know about planning for college.
Advertisement