See All
Colleges >
Types of Technology Certificate Programs
Types of Technology Certificate Programs
Learn about different types of technology career training.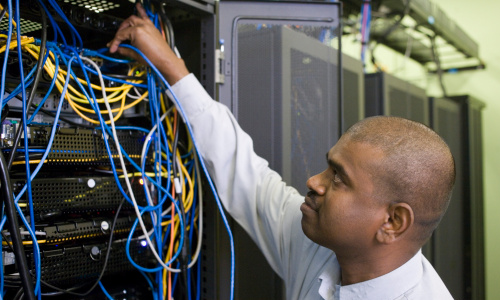 Photo: Thinkstock
Technology continues to evolve each year, which creates the need for technology professionals to design, implement and information technology.
An information technology certificate gives you a basic understanding of various technologies such as web design, project management, software and programming. This is an essential certificate for college students, career changers and professionals who want to succeed in their field of interest. Get your information technology certificate to help narrow down which type of technology you want to specialize in.
Working professionals from most industries can benefit from a certificate program.
Computers are finicky machines and can break down or fail quite easily and without any warning. Computer installation and repair certificates provide you with the knowledge to install, troubleshoot, diagnose and repair computers. Because most organizations could not run without their computers, computer repair people are a necessary component to an efficient office. A computer repair person might have an in house position or be a contracted employee.
Computer Software and Programming Certificates
Computer software is a group of programs that tell a computer how to perform specific functions. The two main types of computer software include application software and system software. Application software perform functions that not every computer can, while system software makes the hardware on the computer run.
A computer software technology/technician certificate teaches you basic information on how to program computers. After earning your certificate you will have the skills to assist computer engineers in creating software and program applications.
The computer software engineering certificate is similar, however it is designed for students who have already earned at least a bachelors degree and sometimes a masters degree in a technical field. This program allows you to specialize in order to move up in your career.
In order to enroll in a computer programming certificate program, you must have a bachelors degree because this is a graduate level certificate for working professionals. If you are interested in programming in a more creative job, consider getting a computer games and programming skills certificate.
Experienced computer programmers and software developers may consider updating or increasing their skills by getting a database administration certificate. In this program, you learn how to install and manage database software for the purposes of indexing data.
Web Design Certificates
The internet has grown beyond what most people thought it could be just 10 years ago. Today most organizations, businesses and government entities have a website to connect with current and future clients.
If you have a passion for technology and an eye for design, a web design certificate could be your ticket to a new career. In this program you learn the basics of web design such as HTML and how to use the appropriate software.
Do you already have a career in web design? Earn your webmaster certificate to increase your responsibilities to include maintenance, programming and development of websites.
Working professionals from most industries can benefit from an e-commerce certificate. In this program you learn how to sell and market products on the internet.
Computer Systems Certificates
In an organization or business, multiple computers are hooked up to a system that allow them to communicate and operate under the same network.
A computer systems networking and telecommunications certificate provides you with the knowledge needed to maintain, trouble shoot and secure a system of computer networks. Typically, a background in information technology is required for admission into this program.
Related to computer systems networking is the more specialized computer systems security certificate. This program is usually for students who have had experience in computer networking and want to specialize in order to switch careers or earn a promotion.
If you have experience in the field, but don't want to specialize in systems security, consider earning a networking and lan/wan management certificate. This program prepares you for management of an entire organizations system.


People Who Read This Article Also Read:
What Are Certificate Programs?
Is a Certificate Program Right for Me?
Online Certificate Programs
What Types of Schools Offer Certificate Programs?
Paying for Your Certificate Program
20 In Demand Certificates
Earning More Than One Certificate
Career Prospects with a Certificate

Advertisement
Visit Our Student Center

Get on track!
And find out everything you need to know about planning for college.
Advertisement