See All
Colleges >
College Towns: Madison, Wisconsin
College Towns: Madison, Wisconsin
Learn more about Madison, Wisconsin – home of the University of Wisconsin.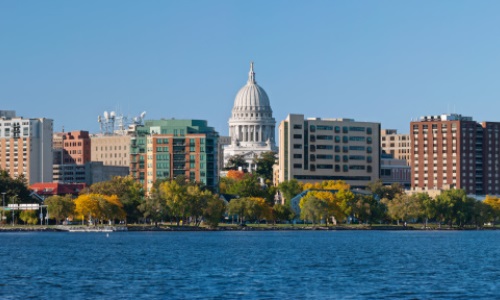 Photo: Thinkstock
The Town: Madison, Wisconsin
An isthmus between Lakes Mendota and Monona, Madison is the capital of Wisconsin and the state's second-largest city. You can expect frigid winters dropping well below freezing. Things warm up in the spring, however, and make way for humid summers and cooler autumns.
The University of Wisconsin is one of the largest U.S. colleges, both in terms of enrollment (more than 40,000 total students) and size (the school boasts a 933-acre campus). Residents enjoy all the outdoor amenities that come with the proximity to two lakes and an arboretum. The heart of the campus is atop Bascom Hill, which rolls down into State Street, where you'll find bars, restaurants and social life.
Madison hosts one of the biggest Halloween celebrations in the country, attracting tens of thousands of visitors each year.
Men's football, basketball, men's and women's hockey, cross-country and rowing teams are all among the best programs in the nation. In 2010, the Wisconsin Badgers football team won the Big 10 conference and played in the Rose Bowl, where it lost to TCU.
What to Do
State Street runs from the bottom of Bascom Hill to the footsteps of the Capital building, literally and figuratively connecting the university with the state government.
Madison hosts one of the biggest Halloween celebrations in the country, attracting tens of thousands of visitors each year. Students take to State Street in their costumes and the crowd spills out into the bars and adjacent streets.
Similarly, each spring is the Mifflin Street block party, in which tens of thousands of students celebrate near the end of the school year. Many of the houses along the street have bands and live music.
Where to Eat and Drink
Wisconsin is famous for beer, bratwursts and cheese. You can find all three of these at State Street Brats, a sports bar/restaurant that's perfect for watching a football, basketball or hockey game.
If you'd like to try something a little more creative, Ian's Pizza takes traditional pizza crusts and tops them with anything and everything, from macaroni and cheese to steak and fries.
Did You Know?
The University of Wisconsin, Madison, is the only university in the United States to have two separate student-run newspapers: the Daily Cardinal and the Herald.


People Who Read This Article Also Read:
The Top 40 College Towns in the US
College Towns: Lexington, Kentucky
College Towns: Ithaca, New York
College Towns: Amherst, Massachusetts
College Towns: Tuscaloosa, Alabama
College Towns: Cambridge, Massachusetts
College Towns: College Station, Texas
College Towns: Tucson, Arizona

Advertisement
Visit Our Student Center

Get on track!
And find out everything you need to know about planning for college.
Advertisement