See All
Colleges >
Degrees That Get You Hired
Degrees That Get You Hired
Find out which degree programs have the highest employment rates.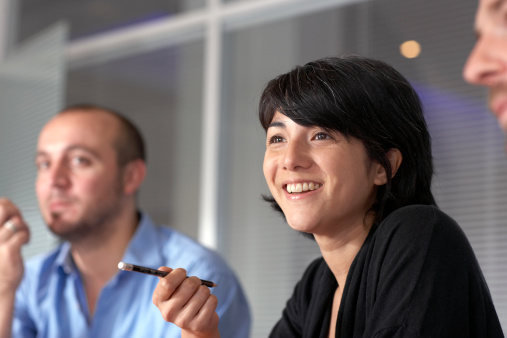 Photo: ThinkStock
By Meg Marsh
While college has a myriad of benefits, many students earn a college degree in order to start a career after graduation. Recently however, it's more important to find degrees that get you hired.
We are still in shaky economic times, and students need to choose their college and major wisely. You want to choose a path that will lead to a career after graduation or else you'll be left wondering why you're forking over hefty sums of money each month in student loan payments.
Of recent college grads in this field who were surveyed, 56.5 percent had a job that required a bachelor's degree.
"Recession-proof jobs" has become a hot expression. Students want to know which majors will lead to a lucrative career after graduation. While "recession proof" might be a stretch, certain fields are more reliable providers of jobs than others.
Degrees That Get You Hired
A recent New York Times article reports results from a 2009 Labor Department's American Community Survey that shows which careers have the highest employment of college graduates under the age of 25. The results can be used as a guide to the jobs in highest demand. Here are some of the hottest careers:
Education/teaching: This field has the highest percentage (71.1 percent) of jobs that require college degrees. The minimum degree that a teacher must obtain is a bachelor's degree, and there is always a need for good educators in the public and private school systems. However, job opportunities vary by region, state and city and teachers are only allowed to work in the state in which they hold their license.
Photo: ThinkStock
Careers in Education:
Engineering: Is science class the highlight of your school day? If so, engineering could be a good fit for you. Generally, job prospects should be good for this occupation: 69.4 percent of graduates had jobs that required a degree. There are many different types of engineering, but the fields with the highest demand are civil engineers, mechanical engineers and electrical engineers. Meanwhile, many more engineering careers are on the rise. You can get an entry-level job with a bachelor's degree, but many engineering careers require a master's degree.
Careers in Engineering:
Math/computer science: Math nerds who get excited over algorithms and calculus could find a successful career in computer science. Computers and digital technology have become so woven into our lives that there is a need for computer scientists in virtually every area of business. Of computer science graduates, 68.5 percent had jobs that required a college degree. Job prospects for this career are positive, as computers are here to stay.
Careers in math/computer science:
Health: This major extends to a variety of careers. Nurses, dentists, radiologists, surgeons and medical assistants are all a part of the health-care system. Among graduates with health-care degrees, 64.9 percent had a job that required a bachelor's degree. Health care might be the biggest industry in the country, so job prospects are favorable.
Careers in health:
Physical science: People have always had the need to understand the world around them, which means there's a demand for professionals who can understand the physical world. Of recent college grads in this field who were surveyed, 56.5 percent had a job that required a bachelor's degree. Although these jobs are in demand, there is keen competition for them.
Careers in Physical Science:
Business, communication, humanities and area studies round off the list. Students interested in these fields should also expect good career opportunities.
Of all 2011 graduates, 55.6 percent had a job that required a bachelor's degree. Considering the recent economic decline, these are promising numbers for graduating students.
People Who Read This Article Also Read:
Recession-Proof Careers
What Are the Most In Demand Careers in 2016?
Top 25 In Demand Jobs and Fastest Growing Occupations
In Demand Jobs in Health and Medical Services
In Demand Jobs in Business

Advertisement
Visit Our Student Center

Get on track!
And find out everything you need to know about planning for college.
Advertisement