See All
Colleges >
College Fencing: From Medieval Duel to NCAA Sport
College Fencing: From Medieval Duel to NCAA Sport
Fencing isn't only something you see in movies. Find out about fencing on all levels, from club to intramural to NCAA fencing.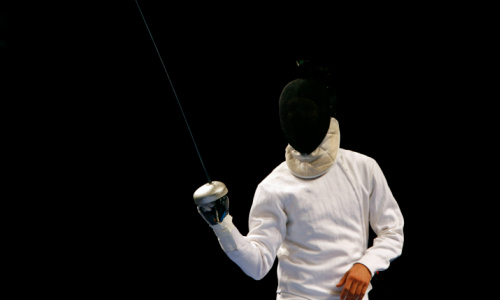 Photo: Thinkstock
Ever since our parents first told us not to play with sharp objects, we've all wanted to try swordfighting.
Unfortunately, under most circumstances, it's not the most practical (or sensible) activity. But in college, there's a place for even the most obscure sports, and fencing is included among them.
Compared to other college sports, there aren't many NCAA fencing teams. However, many schools have club teams that participate in intercollegiate play.
History of Fencing
Fencing is a venerable European tradition, dating back to the Middle Ages. It began as a crucial part of chivalry, but quickly became an art form. By the Renaissance, fencing schools had popped up throughout Europe, and various styles were developing.
Of course, fencing lacks the practical application now than it did in those days. (At least, we don't know of anyone who is often challenged to a sword duel). But modern fencing is still played for sport in colleges nationwide. It's divided into the three categories of weapon: foil, epée, and sabre; each with different rules and technique.
Where is Fencing Popular?
In the United States, fencing is mainly a college sport. It's played on the intramural and club level at schools throughout the country, but most NCAA teams can be found on the east coast.
College fencing is especially popular at Ivy League schools, such as Yale and Columbia University. Ivy League fencing is an old and rich tradition, and as a result, the Ivy League tends to have consistently strong teams. These are also schools that are most likely to give out fencing scholarships, like Columbia's Herbert C. Spiselman Memorial Endowment for Fencing.
NCAA Fencing
There are currently 43 NCAA fencing schools, spread across three divisions. Before 1990, the NCAA championships consisted of men's team, women's team, and men's and women's individual tournaments for the three weapons categories. Since then, they have integrated the men's and women's teams into a combined championship.
Historically speaking, the Ivy League is the powerhouse conference. But since the combined team championship began in 1990, Penn State, Notre Dame and Ohio State have won nearly every team title. Columbia won in 1992 and 1993, and Harvard won in 2006; aside from these wins, the Ivy teams have gone home empty-handed.
Club and Intramural Fencing
Compared to other college sports, there aren't many NCAA fencing teams. However, many schools have club teams that participate in intercollegiate play.
The United States Association of Collegiate Fencing Clubs (USACFC) is one of the organizations that oversees club play. The USACFC National Championship is consistently the largest university fencing tournament in the world. In 2011, over 700 fencers participated in the competition!
Though not every school has a fencing club, it's worth checking to see if your college sponsors intramural fencing. The low-key atmosphere of intramural sports is a great way to get introduced to the complex art of fencing.
From Student Athlete to Olympic Medalist
Since the beginning of the modern Olympics in 1896, fencing has been a popular Olympic sport. Many members of the United States' 2008 team went to school at the best fencing universities. Emily Cross, for example, attended Harvard; and Gerek Meinhardt currently studies at Notre Dame. If you stand out in a top NCAA fencing team, you might find yourself on Team USA, too.


People Who Read This Article Also Read:
Where Did American World Cup Stars Go to College?
The Best Schools for Men's College Rugby
Playing Soccer in College: Intramural, Club, and NCAA Soccer
College Wrestling: The Best Schools for all Levels of Collegiate Wrestling
College Water Polo: The Best Schools for Men's and Women's Water Polo
College Crew: The Country's Best Schools for Rowing
Top 10 Weirdest College Mascots
Club Sports in College

Advertisement
Visit Our Student Center

Get on track!
And find out everything you need to know about planning for college.
Advertisement