College Drinking
How much drinking goes on at college campuses? Learn the facts here.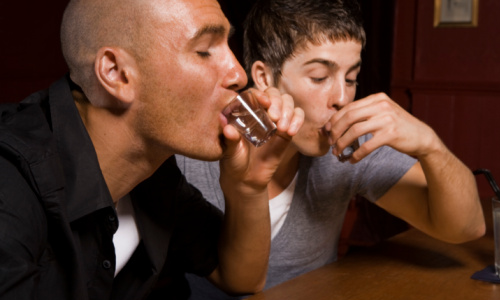 Photo: Thinkstock
Drinking in college is often a result of thousands of young adults placed in a highly social environment. Unfortunately, the freedom afforded students in this new environment can lead to binge drinking, which has become a serious problem in colleges throughout the United States. This article will provide information on recent college drinking at a glance, as well as strategies on how to minimize your child's risk.
Who's at Risk?
Widespread heavy drinking is not only limited to 'party schools.' A recent study by the National Institute on Alcohol Abuse and Alcoholism (NIAAA) found that 40% of college students aged 18 to 20 reported heavy drinking (five or more drinks) in the past month. The numbers jump to 50% for ages 21 to 24, which is 5% higher than those not attending college.
Heavy drinking in college can lead to academic failure, delinquent behavior, and unhealthy social relationships.
Social environment also plays a large factor in binge drinking. Students living in fraternities, sororities, and on-campus housing are at the highest risk, as are athletes. Those who commute or live in off-campus housing tend to drink less. The NIAAA study also revealed a correlation between high school drinking and alcohol problems in college. If a student drank before college, he is more likely to face alcohol dependency, drive after drinking, and have unprotected sex.
Effects of Binge Drinking
Heavy drinking in college can also lead to academic failure, delinquent behavior, and unhealthy social relationships. According to the Center for Science in the Public Interest, "Frequent binge drinkers are 21 times more likely than non-binge drinkers to miss classes, fall behind in schoolwork, engage in vandalism, be injured or hurt, engage in unplanned (and unprotected) sexual activity . . . or drive a car after drinking."
College students drinking can also face significant health problems. Short-term effects of binge drinking include sleep deprivation, loss of focus, alcohol poisoning, and alcohol dependence. The National Epidemiologic Survey on Alcohol and Related Conditions (NESARC) found that nearly 20% of college students were clinically dependent on alcohol.
Prevention
Many colleges have academic policies regarding alcohol and drug consumption on campus. Read up on the policies at the schools your child is considering; you will likely find that some take more preventative measures than others. Researching a college's location can also give you a good picture of the social atmosphere. Is it in a city with easy access to alcohol? Do sporting events play a prominent role in campus life? What's the reputation of the fraternities and sororities? Make sure you know the answers to these questions. The surest method of prevention, however, is to stay involved in your child's life, especially during freshman year. Call frequently to check up on her classes and activities, ask what her friends are up to, and so forth. Make sure she understands the facts about alcohol and binge drinking in college. The best weapon against drug abuse is knowledge of its risks.


People Who Read This Article Also Read:
Can My Child Visit Colleges Alone?
The College Visit: A Parent's Guide
College Student Housing: A Parent's Guide
Campus Safety
A Parent's Guide to Helping Your Child Choose a College
College and Careers: A Guide for Parents
Alternatives to a Four-Year College
Is Online Education Right for My Child?

Advertisement
Visit Our Student Center

Get on track!
And find out everything you need to know about planning for college.
Advertisement