See All
Colleges >
College Towns: Claremont, California
College Towns: Claremont, California
Learn more about Claremont, California -- Home of Pomona, Scripps, Claremont McKenna, Harvey Mudd, and Pitzer.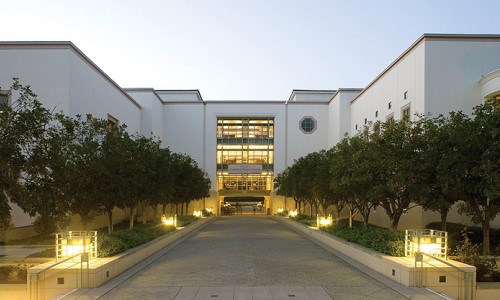 The Town: Claremont, California
Claremont is a small town of just under 35,000 in the Los Angeles metropolitan area. Residents enjoy a quiet community yet still have the opportunity to take advantage of the second-largest metropolitan area in the country. CNN Money rated Claremont the best place to live in California.
Most of the streets are lined with American elm trees, which coupled with the five colleges in the surrounding area (Pomona College, Scripps College, Claremont McKenna College, Harvey Mudd College, and Pitzer College), have led Claremont to be nicknamed "The City of Trees and PhDs."
The Claremont Colleges function as five smaller universities within one campus.
The School: The Claremont Colleges
The Claremont Colleges function as five smaller universities within one campus. Each has its own living areas and administrative buildings. However, the schools share libraries, student centers and dining areas, the goal being that students can enjoy the benefits and resources of a larger university while still having the intimate experience of a smaller college. Although students are enrolled at one school, they are allowed to take classes at all five universities.
Pomona College: The founding member of the Claremont Colleges, Pomona is a school of 1,548 that was founded to be a West Coast version of a New England private liberal arts college.
Scripps College: A liberal arts school for women only, Scripps is the smallest of the Claremont Colleges with fewer than 900 enrollees. Perhaps the most beautiful of the five colleges, the campus is lined with orange, grapefruit and olive trees. Scripps is also highlighted by its own rose garden.
Claremont McKenna College: Originally founded as a men's school, Claremont McKenna is now open to students of both genders. Ranked as the 11th-best liberal arts college by US News & World Report, it specializes in public policy and economics.
Harvey Mudd College: Ranking just a few spots behind Claremont McKenna, the curriculum at Harvey Mudd focuses primarily on engineering, math, technology and the sciences.
Pitzer College: Like Scripps, Pitzer started out as a women's college. Now, however, it accepts men and women. Pitzer specializes in social sciences, media and international studies.
What to Do
The Claremont Village is an outdoor mall that features boutiques, art galleries, restaurants and some office buildings. Many celebrities live in the Claremont area instead of Hollywood, so on any given day you might see some of your favorite actors and actresses walking the streets.
Pomona hosts a "ski-beach" day every year, taking advantage of the unique geographical amenities of Los Angeles County. Students spend the morning skiing and snowboarding in the San Gabriel Mountains, then head to the beach in the afternoon.
Where to Eat
Located in the Claremont Village, the Last Drop Café is a family owned and operated coffee and sandwich shop that offers fresh and healthy cuisine. Make sure you try some of its vegan cookies.
Did You Know?
Students from Claremont McKenna, Harvey Mudd, and Scripps College compete together as one team in Division III intercollegiate athletic competitions.


People Who Read This Article Also Read:
The Top 40 College Towns in the US
College Towns: Ames, Iowa
College Towns: Urbana-Champaign, Illinois
College Towns: Corvallis, Oregon
College Towns: Bloomington, Indiana
College Towns: Logan, Utah
College Towns: Athens, Georgia
College Towns: Chapel Hill, North Carolina

Advertisement
Visit Our Student Center

Get on track!
And find out everything you need to know about planning for college.
Advertisement