See All
Colleges >
How to Counsel Overwhelmed Students
How to Counsel Overwhelmed Students
Experts share their tips on how to help students who are overwhelmed by the college admissions process.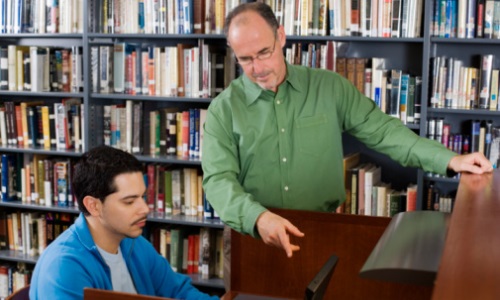 Photo: Thinkstock
Certain students feel the pressure of applying to college more acutely than others. As a counselor, you're well-equipped to guide students through this process. With overwhelmed students, however, it's important to use special techniques to also minimize their anxiety and stress. Use the following tips to provide the best assistance to students who may feel intimidated by the college admissions process.
Make sure to take a special interest in students who seem overwhelmed by the college admissions process.
Provide a Step-by-Step Plan
Overwhelmed students often find the long "to-do" list associated with college admissions to be particularly intimidating. One way to help these students achieve their goals is to format this process into a step-by-step plan that they can follow.
As Wendy Flynn, a college admissions consultant and founder of MBA Admissions Coach notes, "Overwhelmed students will benefit from the simplification (at least in the short term) of their objectives. Perhaps they can be counseled on how to best break up the components of the process to feel successful and gain momentum." That way, students can feel empowered as they check items off of a step-by-step plan. Meanwhile, the visible display of their progress will help to keep them motivated rather than overwhelmed.
Try breaking down the admissions process into actionable tasks that can be completed one at a time. This removes the feeling of being inundated by too many responsibilities at once. In addition, you can also suggest strategies to reduce extra work or stress. For instance, the Common Application makes it possible to apply to multiple colleges while filling out just one application. Students can use this option for any colleges that accept it, although they should also find out if they need to complete supplemental application materials such as extra essays or letters of recommendation for the schools they're interested in.
Recommend Breaks
Many students need to be reminded to take a break from the stressful college admissions process, but overwhelmed students can benefit significantly from this recommendation. A reminder from a trusted counselor could be just what they need to regain their sanity. As Flynn points out, "It's important for students to have 'permission' to sometimes take a break from all of the activity related to the college search and admissions process."
If a student is on top of his/her college admissions step-by-step plan, tell the student to take a week or two off from doing any college-related tasks. In fact, you can even build these breaks into a timeline to help facilitate much-needed down time. This is especially important since excessive anxiety during the college admissions process can be detrimental to the student's prospects. As the director of admissions at Oberlin College told the National Association for College Admission Counseling, "Going about the business of being a good student and good citizen, making choices for the betterment of your brain, body and spirit, often offers more benefit for college admission than some plan crafted to impress college admission officers."
Give students ideas for ways to relax, whether it's immersing themselves in an extracurricular activity they love, taking a yoga class, or simply taking a nap after school instead of working on applications. Your endorsement of taking a break may be just the push they need to de-stress.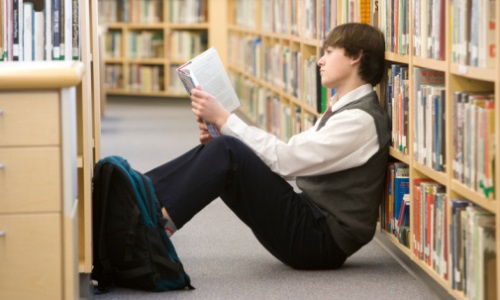 Photo: Thinkstock
Create a Supportive Atmosphere
Stress about applying to colleges may be just one type of anxiety an overwhelmed student is feeling. A student may also be worried about issues with friends, fighting with his/her parents, or anxiety about going off to college. Make sure students know they can come to you with these worries, and create a safe space where he/she can vent without feeling judged.
Inevitably, some students may have trouble opening up to an authority figure like a counselor. In these cases, you can take it upon yourself to develop a kind of support group for students, where they can share their feelings and worries with their peers. The support doesn't have to come through formal meetings or discussions – try offering fun or relaxing activities during which students can hang out and take their mind off of college for a while, like a movie screening or an ice cream social.
Talk to Parents
If you notice that a student is chronically stressed about his/her college applications, be sure to speak to the parents. It's helpful to make sure the parents aren't pushing an obsessive focus on college admissions. In addition, you can recruit them to help you in recommending the occasional break for students who are suffering from stress or exhaustion. It's essential to get parents involved, especially if you're worried about a student's school work or mental health suffering due to anxiety about college admissions.
Make sure to take a special interest in students who seem overwhelmed by the college admissions process. You can be a special resource to them since you're well-versed on the ins and outs of applying to college, especially the ways in which the process can be simplified. With your assistance, these students should have no trouble thriving.
People Who Read This Article Also Read:
Meet With a Guidance Counselor to Plan Ahead for College
High School Guidance Counselor Timeline
Top 10 Ways to Utilize Your Guidance Counselor
High School Guidance Counselor FAQ
Advertisement
Visit Our Student Center

Get on track!
And find out everything you need to know about planning for college.
Advertisement