See All
Colleges >
Theatre, Dance, Music and Fine Arts Applicants
Theatre, Dance, Music and Fine Arts Applicants
Learn more about the unique college application process for arts students.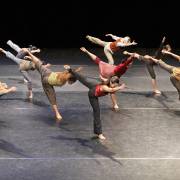 Interested in earning a theatre, dance, music or fine arts degree? Careers in these fields do not always require undergraduate degrees, but the courses you take in college in these areas can teach you valuable information about the field and boost your chances of success.
Although theatre, dance, music and other fine arts courses are a part of liberal arts programs at many schools, deciding whether you will want to specialize in one of these majors can influence your college search.
Applying to school for a fine arts program usually means presenting a portfolio of your work.
A Campus Explorer college search allows you to refine your search of colleges and universities to specific specialty schools, such as those that focus on music or art and design. Look at a variety of schools, both within the arts and more broad liberal arts programs, to help you decide if you want to specialize in a performing arts degree program, or if you want to attend a university where you can get a more broad education or even switch to a non-arts major.
When you find a college that seems right, start thinking about your audition. At many colleges and universities, students will be required to audition as part of their applications. Here's what you need to know to prepare for these auditions:
Theatre Auditions
Most liberal arts colleges do not require an audition in order for you to participate in their theatre major degree program. However, if you intend to obtain a Bachelor of Fine Arts (BFA) degree in theatre, then you will be expected to audition for your future course instructors. This audition will usually consist of performing two monologues: one contemporary and the other classical. Make sure these monologues are suited to your age and range. Musical theatre applicants should prepare two songs and a monologue.
Dance Auditions
You will find that college dance programs often have an open class the day before the dance auditions. Prospective students will be taught a routine that combines various styles of dance, such as ballet, modern, jazz and contemporary. You'll then be asked to perform this routine at the audition. Instructors will be looking at your technique, rhythm and coordination.
Music Auditions
For colleges and universities that offer music degree programs, you'll most likely have to audition. For singing auditions, you'll usually be asked to perform two songs. These should show off your range and a variety of vocal styles. The same can be applied to instrumental auditions. Select pieces you are comfortable with and that show your range.
Fine Arts Auditions
Applying to school for a fine arts program usually means presenting a portfolio of your work. This should be a collection that reflects your point of view as an artist and gives an indication of what you might want to pursue in terms of an art career. Your portfolio should include about 10 pieces that showcase your diversity and technique as an artist. This portfolio can also help you obtain scholarships and grants to apply toward your degree program.
Fine Arts Tips & Tactics
Students should have an up-to-date photo and audio or video samples of their craft to leave behind after the audition. These can be important parts of students' applications.
If you are singing, ask if you can bring along your own accompanist.
Don't hesitate to ask the colleges and universities of your choice what they are looking for in a student, so you can prepare accordingly.
Keep copies of all the audio and video you send to school, and artists should keep originals of their work. You may not be able to get back originals from the university.
Did you blow your audition? Contact the school to find out if you can audition a second time.
People Who Read This Article Also Read:
10 College Application Tips You Need to Know
What Do I Need to Complete My Application?
Should You Submit the Online or Paper Application?
Have You Submitted Your Online College Applications?
Should You Apply to College with the Common Application?
The Admissions Process: What Are Colleges Looking For?

Advertisement
Visit Our Student Center

Get on track!
And find out everything you need to know about planning for college.
Advertisement