See All
Colleges >
Financial Aid Timeline: Junior Year
Financial Aid Timeline: Junior Year
Start now to get the most college aid.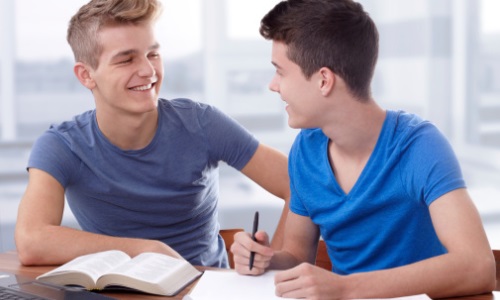 Just because you're not applying to colleges and universities until next year doesn't mean you can't get a head start. The more you know about financial aid, the more money for college you'll be able to get.
Your junior year of college is the perfect time to prepare both for getting into college and getting as much college money as you can to help pay for tuition and other expenses. Follow this financial aid time to stay on track throughout your junior year.
Fall
Sign up for the Preliminary SAT/National Merit Scholarship Qualifying Test (PSAT/NMSQT) at your high school or a nearby school. This standardized test is a practice run for the SAT, and if you score well on it, you'll qualify to compete for a National Merit Scholarship.
Take the PSAT in October.
Attend your high school's or community's financial aid night. Ask your guidance counselor when and where these events are happening.
Start looking for scholarships. How? Look online, and ask your guidance counselor, parents, boss and the heads of organizations you belong to if they offer college scholarships and how you apply for them. Remember, college scholarships are awarded both for academic excellence and for special skills and achievements, so you have lots of opportunities to qualify.
Winter
Sign up for the SAT Reasoning Test or ACT, and start studying. Your scores on the PSAT test or the PLAN test you took your sophomore year will show you some of the areas you need to work on.
Create a list of your awards, community service tasks, work experience, special skills and other distinguishing traits. You'll want to refer to this when you're looking for scholarships, completing your college applications, writing college essays and preparing for interviews with admissions officers at the colleges and universities you apply to.
February is Financial Aid Awareness Month. Ask your guidance counselor what activities are happening in your area. Your high school and nearby colleges may host events to help students learn more about available college aid and getting money for college.
Set up visits to your top schools. In addition to taking a campus tour and learning more about college admissions, set up a meeting with the financial aid office to discuss their policies, deadlines and forms you're expected to fill out. The more you know about your financial profile when you go, the more information they'll be able to give you about what college money you can expect to receive.
Take the SAT or ACT. You'll have opportunities to retake it in your senior year, but you'll want to take it once now to see how well you do. If you do well, that's one less thing you have to worry about your senior year.
Summer
Create a list of teachers who you want to write your letters of recommendation for college and school scholarships.
Keep searching for college scholarships.
Start requesting college applications and financial aid forms.
Create a calendar of admissions deadlines and due dates for financial aid and any college scholarship you're seeking.
Look into costs for the schools you're interested in, including tuition, fees and room and board, which are likely to be the major costs. Look at the college degree programs at schools in your state, since in-state college costs are likely to be less for state schools.
Get a summer job, and save as much money as you can.
People Who Read This Article Also Read:
Financial Aid Timeline: Senior Year
10 Things You Need to Know About Paying for College
You're In! How Are You Going to Pay for College?
Paying for College: The Basics

Related Timeline Articles
Advertisement
Visit Our Student Center

Get on track!
And find out everything you need to know about planning for college.
Advertisement