See All
Colleges >
Homeschooling and College: What Options Are Available?
Homeschooling and College: What Options Are Available?
Learn more about the college options available for students who have studied using a homeschool curriculum for high school.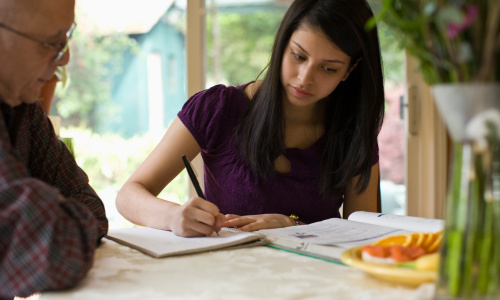 Photo: Thinkstock
As the popularity of homeschooling grows, students who have studied this way during high school may ask: What are my choices for college?
Homeschooling, as it turns out, has not only become more common, it has also been found to give students a slight advantage in the college admissions process.
Keep your options open. Remember, there is more than one way to earn a college degree.
Not that college admissions panels give special treatment to homeschoolers, but studies have shown that students tend to achieve higher in their academics within an intimate and focused environment. According to the Journal of College Admissions, homeschool high school students earn higher SAT and ACT scores, have higher GPAs, and complete more college credits than other incoming freshmen.
If you've had a homeschool education during high school, your curriculum may have more benefits than you might think.
How Homeschool and High School Curricula Compare
Although there are many variations of homeschooling that range from online programs to group sessions, the ideal four-year preparatory program includes four years of English, math, science (biology, chemistry, physics), three years of history (including American and European history), and four years of one foreign language.
Because the college admissions process for homeschoolers is handled exactly the same as for traditionally schooled students, make sure your homeschool curriculum meets the admission requirements for the colleges you are interested in.
The Importance of Class Rank, GPA, and Standardized Tests
One question that homeschoolers frequently ask is whether they will be hurt by not having a class rank. Depending on which school you are looking into, it may not matter as much as you think. Once you have narrowed your selection, contact each school's college admissions officer to discuss your concerns about lacking this criterion. Keep in mind that if you are missing some of the criteria used in selection such as GPA and class rank, the admissions panel will likely put more emphasis on other factors, such as standardized test scores and extracurricular activities. Colleges love well-rounded applicants so be involved – volunteer or join clubs that are affiliated with either your community or perhaps a local school. Strive for strong academic credentials and take the SAT or ACT twice, first in the spring of your junior year, and again in the fall of your senior year.
What to Do
Just like any traditional high school student, homeschool students have multiple approaches to earning a bachelor's degree. If finances are a large issue for you and your family, look into homeschool college scholarships or financial aid early on. If you're not sure what you want to study, you may want to attend a community college or online school. You can always transfer to a more traditional four-year college or university after earning some credits. Another option, if you have already decided on the field you want to pursue, is a career-focused online or trade school that will give you the specific training you are looking for to start your working career.
Homeschooling and College: Tips and Tactics
Homeschool students may feel at a slight disadvantage as opposed to other high school students. But when it comes to college admissions, this is not the case. Here are a few steps to take to make sure your college admission process has the outcome you want:
Take charge and visit the campuses that interest you. Use your Internet research skills to get as much information as possible about the university and make contact with somebody at the institution.
Keep up on the college admissions process. Since you don't attend a public high school that frequently announces deadlines and test dates, it's up to you to keep informed and follow through with deadlines for tests, applications, housing, financial aid, and scholarships.
Apply early and make sure all your paperwork is complete. This includes college applications as well as financial aid and scholarship applications.
Keep your options open. Remember, there is more than one way to earn a college degree.
People Who Read This Article Also Read:
TOEFL Prep For ELL and ESL Students
Students With Disabilities
Deaf and Blind Students
College Planning Guide for Students with Learning Disabilities
First-Generation College Students
International Students Choose American Colleges for Higher Education
IEP Students and College: Planning Your Transition
College Advice For Students With A 504 Plan

Advertisement
Visit Our Student Center

Get on track!
And find out everything you need to know about planning for college.
Advertisement