See All
Colleges >
SAT or ACT: Which Should You Take?
SAT or ACT: Which Should You Take?
Learn the differences between the two types of tests and find out which one is best for you.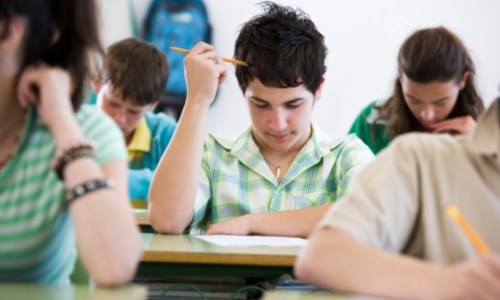 While both are standardized tests used to evaluate candidates for college admissions, there are major differences between the two tests, so how you score on each type of test could vary significantly. Finding out more about the tests will help you determine which test you should take.
Most U.S. four-year colleges and universities accept scores from both the ACT and SAT, so which should you take? The best answer for you depends on two factors:
The best time to take the test is the end of your junior year, so you have lots of time to study and retake the test to improve your scores, if necessary.
Is one test required or preferred at the schools you're considering?
What type of testing style suits you best?
SAT and ACT Test Basics
The SAT test, more common in schools along both coasts, primarily tests your reasoning skills and problem-solving abilities. The questions cover three areas: math, writing and critical reading. The ACT test, which is used more often in the Midwest and the South, tests you in science as well as math, English and reading. It focuses on material you've learned in your high school classes.
Both tests are mostly multiple-choice; the SAT also has a mandatory essay (it's optional on the ACT) and a section of math questions without answer options where you're required to enter your answers on a grid.
Key Differences Between the SAT and ACT
The ACT tests you in science; the SAT doesn't.
The ACT focuses on your high school education; the SAT tests how well you're able to apply the information you've learned.
The essay is optional on the ACT and required on the SAT. Before you let that sway you, keep in mind that some colleges may require scores on the essay if you're taking the ACT. Check with the admissions department for each university in your college search to make sure you know what's required.
The SAT deducts points for wrong answers in the multiple-choice sections, so randomly guessing could lower your score. There are no penalties for incorrect answers on the ACT, so make sure you fill in all the ovals in each section.
Math accounts for ¼ of your score on the ACT and 1/3 of your score on the SAT.
Which Test Should You Take?
Do you like logic puzzles, riddles and brain-teasers? Are you detail-oriented? Is your vocabulary strong? If that description sounds like you, the SAT might be the best test for you. On the other hand, if you retain information well from your high school classes and science is one of your strengths and potential majors, you may be better suited for the ACT.
The best way to know for sure is to take practice tests and see how you do, and to compare your scores on those tests against the requirements at each university on your list. Also, some colleges prefer one test over another, so if you find a college that requests one, let that factor in to your final decision. You can take both tests if you like, but it's not required.
SAT and ACT Tips
The SAT costs $49 and is offered seven times a year, generally in October, November, December, January, March, May and June. Register to take the test on the College Board site, where you can also view your scores when they become available. The ACT test costs $34 and is offered six times a year (September, October, December, February, April and June); the Act Plus Writing test is offered on all of those dates except September. Register to take the test on the ACT site, where you can also change your test date if necessary and view your scores when they become available.
The best time to take the test is the end of your junior year, so you have lots of time to study and retake the test to improve your scores, if necessary. Why retest? If you find a college with minimum requirements that are significantly higher than what you scored, you'll want to give yourself the option of improving your scores.
It can take several weeks to receive your scores from these tests, so be sure to take the test at least two months before your applications for scholarships, colleges and universities are due.
Take note of how well you do in the different areas of each test. Finding out your core strengths can help you narrow down possible college majors and careers.
Worried that a low score will prevent you from getting your degree? These prep programs can help; check them all out to find the program that best suits your needs:
People Who Read This Article Also Read:
Should You Send All of Your SAT Scores to Colleges?
What's a Good SAT Score or ACT Score?
PSAT/NMSQT & the PLAN (Pre-ACT)
Low SAT or ACT Test Scores? You Still Have College Options

Advertisement
Visit Our Student Center

Get on track!
And find out everything you need to know about planning for college.
Advertisement