See All
Colleges >
College Towns: Amherst, Massachusetts
College Towns: Amherst, Massachusetts
Learn more about Amherst, Massachusetts – home of Amherst College, The University of Massachusetts and Hampshire College.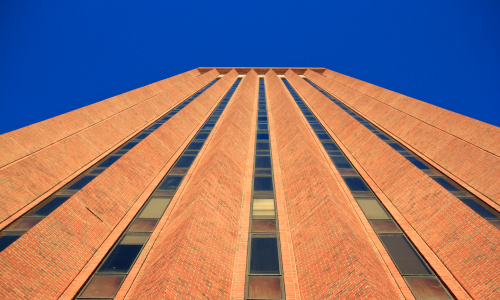 Photo: Thinkstock
The Town: Amherst, Massachusetts
Located in the Connecticut River Valley, Amherst, Massachusettes, is a close-knit town of just under 38,000 people. An active, liberal community, Amherst is a hotbed of higher learning, as it is home to three of the "Five Colleges": Amherst College, the University of Massachusetts and Hampshire College. The other two, Mount Holyoke College and Smith College, are located in South Hadley and Northampton, respectively.
The Schools: Amherst College, The University of Massachusetts-Amherst, Hampshire College
As members of the Five Colleges, students can take classes and borrow books from each university. Additionally, buses run to and from each campus, making it easy to travel back and forth between schools.
Amherst is an incredibly progressive community that has long been rooted in social movements and activism.
The largest and only public university of the five, The University of Massachusetts, Amherst, (UMass) is home to 27,000 students. The W.E.B. DuBois Library is the tallest library in the United States, located right next to the school's iconic Old Chapel.
Amherst College is much smaller, with only 1,700 students. An elite university, it has been ranked No. 1 in U.S. News & World Report's ranking of liberal arts colleges multiple years. Unlike many colleges, other than a freshman seminar, students of all years are allowed to take any class they want. But be careful. You'll have to live with the grades if you take an advanced course as a freshman.
Hampshire College boasts one of the most unique curricula of any university. The 1,400 students design their own course work, complete projects in lieu of classes, and constantly add their own thoughts to changing programming. Instead of grades, the staff gives evaluations at the end of each term.
What to Do
Amherst is an incredibly progressive community that has long been rooted in social movements and activism. Hampshire College was one of the first locations to protest apartheid in South Africa, and the entire community was a hub of counterculture activity in the 1960s.
There's no Greek life at Amherst College, so if joining a fraternity or sorority is important to you, you may want to consider UMass.
The UMass Museum of Contemporary Art hosts exhibits that travel the country as well as classes, workshops and seminars.
Where to Eat and Drink
The Amherst Brewing Company is the perfect location to spend a weekend afternoon. Take a tour of the facilities, try some of their award-winning beer, enjoy a meal at their restaurant, or relax in the lounge and game room.
Did You Know?
Amherst was home to two of the most prominent authors in American history. Emily Dickinson was born and raised in Amherst, while Robert Frost was a professor at Amherst College.


People Who Read This Article Also Read:
The Top 40 College Towns in the US
College Towns: Fayetteville, Arkansas
College Towns: Lexington, Kentucky
College Towns: Charlottesville, Virginia
College Towns: Grand Forks, North Dakota
College Towns: Tallahassee, Florida
College Towns: Gainesville, Florida
College Towns: Tucson, Arizona

Advertisement
Visit Our Student Center

Get on track!
And find out everything you need to know about planning for college.
Advertisement