See All
Colleges >
How to Find Your First Job
How to Find Your First Job
Explore exactly how to find your first job as a new high school or college graduate.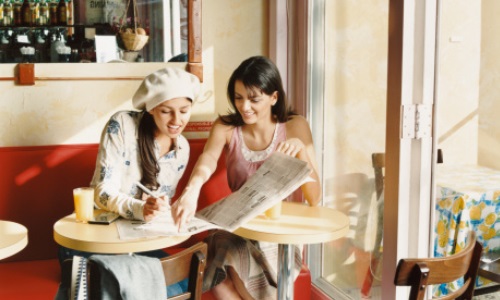 Photo: Thinkstock
By Matt Shirley
Finding your first job can be a long experiment with mixed results. Some new college grads will have first job leads lined up before they graduate while others will struggle in even landing a part-time, non-paying gig.
Resumes don't have to be complicated, employers just want to see what you've done and where you are headed.
Still other job seekers may not have finished college or started in the first place. No matter your education background, the advice for finding your first job is the same.
Let's take a look at 10 tips that can help you find your first job.
1. Start Now
Today is the day to start your job search. Not tomorrow. Not this weekend. Finding your first job is hard work, and you should treat it as such. In fact, you should treat finding a job AS your job, and your job starts today. You don't want to miss out on that perfect opportunity just because you put your job search off until Monday -- a really good role could be gone by then. (Seriously.)
2. Cast a Wide Net
Casting a wide search net doesn't just mean look in a variety of places using a variety of resources. It also means don't get your heart set on one type of job and turn others down in the meantime. While you may have been trained in a certain field, or know exactly what you want to do with your life, this doesn't mean you'll have the opportunity to break into that field on your first try. Open your mind to a wide range of job opportunities and use the best available job search resources to find them.
3. Create a Resume
"But this is my first job! What would I put on it?"
Don't worry! There are several things you can put on a resume. You attended high school, you participated in extracurricular activities, you have certain skills and career goals. You should write them down. Resumes don't have to be complicated, employers just want to see what you've done and where you are headed.
For a first go at it, use our sample resume as a guideline.
4. Be Flexible
Sure you've been doing your yoga, but that's not the flexible we're talking about. To find your first job, you need to be flexible with your time and with your skills. Job seekers who are only available during certain time periods to do certain tasks are less valuable to employers. Open up your schedule and don't be afraid to learn new skills.
5. Use Your Connections
Does your uncle have his own restaurant? Does your friend work with the government? Do you have access to a career services center? All of these things can be considered part of your career network. Use them. Ask your uncle if he has any part-time positions. See if your friend has any advice. And schedule a meeting with career services to find out if there are any alumni in your career field. Don't hesitate to ask for help, every needs a hand from time to time and if you can tap into your career network, you will helping yourself join the working community that could help you land a job.
6. Be Friendly
You should try to make it a habit of being friendly all the time, but especially when searching for your first job. And this doesn't just pertain to sending nice emails and smiling during interviews, sometimes being friendly to strangers at a local coffee shop or the grocery store could help you find your first job just as effectively.
7. Research Jobs, Companies and Employees
Before you contact a company with an inquiry or attend your first job interview, make sure you do a little research on the company to make sure you know exactly what they do. Not only will it help you sound more knowledgeable in the interview, but it will also help you understand exactly what will be asked of you if you get the job.
8. Consider an Internship
Internships are excellent ways for young job seekers, especially new college graduates, to break in to a certain career field. They can sound less than desirable with the low pay, but the recession has led to a lack of resources at many companies, which could mean more responsibilities as an intern that will help you grow your career skills. Internships make excellent transitions between school and the job market. Oftentimes it's also a good way to meet new people in the industry and get your foot in the door at a company.
9. Follow Up
A skill that will serve you well throughout your life, following up shows employers how serious you are about getting your first job. Follow up after job inquiries, meetings, tests, and job interviews. You even want to follow up after social interactions with your connections we mentioned in #5. Thank you notes can go a long way in showing people that you appreciate their help.
10. Keep Applying
You're not finished until you secure your first job. Don't get discouraged by a few ignored emails and a couple unreturned phone calls. It's tough not easy finding your first job but always remember: success favors the persistent.
People Who Read This Article Also Read:
How to Write Your First Resume
10 Job Search Tips for the Busy Job Seeker
Jobs and Internships: What's On Your Resume?
Degrees That Get You Hired
Advertisement
Visit Our Student Center

Get on track!
And find out everything you need to know about planning for college.
Advertisement