See All
Colleges >
Keeping Your Certificate Training Up To Date
Keeping Your Certificate Training Up To Date
Find out what careers require continued education.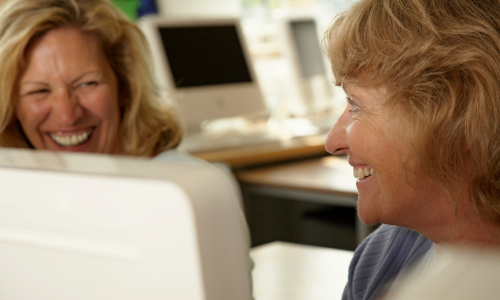 Photo: Thinkstock
Has it been a while since you earned your certificate?
There are many jobs that require employees to continue their education throughout their employment. In some cases, employees are only required to attend a seminar or two, but other careers require employees to continue their education.
Skilled trades require continued education to keep up to date with technology and brush up on your skills.
Although you may have completed a certificate program several years ago, and enjoyed a prosperous beginning to your career, you might need to be retrained in order to stay current with your field's technological advances, laws, and regulations.
Even if you have since earned a degree, the hands-on practical skills that are learned in a certificate program may need to be updated. Or, you can earn a certificate in a growing field to be more marketable to employers.
Why Keep Your Certificate Training Up To Date
It isn't enough to have just one skill in the workplace anymore. Asset employees in a modern company have mastered several skill-sets. They are aware of the trends in their industries and have the knowledge to meet any obstacles that may arise on the job.
But continuing education is not reserved for people who are looking for a job. To be of value in the today's workplace, you need to stay on top of industry trends.
There are some career colleges, trade schools and community colleges that offer certificate programs grant alumni the opportunity to return to the school for free retraining or brushing up on skills at any time.
If your certificate program does not offer free courses to alumni, you can enroll in continued education courses for adults who need a quick brush-up of their professional skills. Some are even self-paced to accommodate those with busy schedules.
What Jobs Require Continued Education?
Today's business world thrives off a global economy. Through technology, companies now have a global presence on the Internet, which requires a new skill set in computer science. In order to keep up with the pace of the industry, earning a computer science or marketing certificate.
Paramedics are usually the first on the scene of an emergency medical scene. EMT's generally experience high-stress on their job, but need to think quick on their feet. For this reason, EMT's are required to keep their skills up to date and refresh any necessary information.
Skilled trades require continued education to keep up to date with technology and brush up on your skills. For example, welding is an ancient trade that has evolved with the increase in complexity of machinery and construction that exists today. As welding technology evolves, welders who want to stay at the top of their game should update their skills by earning another welding certificate, or taking a few courses.


People Who Read This Article Also Read:
What Are Certificate Programs?
Types of Certificate Programs
Online Certificate Programs
What Types of Schools Offer Certificate Programs?
Paying for Your Certificate Program
20 In Demand Certificates
Earning More Than One Certificate
Career Prospects with a Certificate

Advertisement
Visit Our Student Center

Get on track!
And find out everything you need to know about planning for college.
Advertisement