See All
Colleges >
The Cost of College Room and Board
The Cost of College Room and Board
Find out how much it costs to live and eat on campus.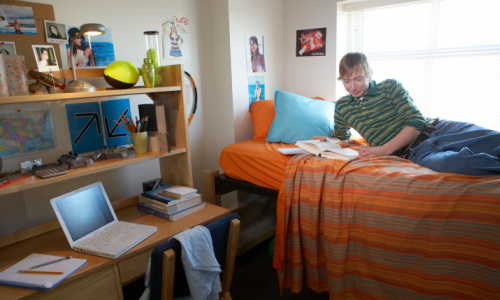 Photo: Thinkstock
A student's room and board is the first big difference he will notice between high school and college.
While in high school, in all likelihood, you lived with your parents. But in college many students live in the dorms during their first year, and then after that might get their own apartments.
Be sure to also check the school's housing website for information on furniture and other furnishings that may come with your room and the dormitory in general.
No parents? That means freedom, right? Unfortunately, you also have to pay for the freedom.
Room and board costs will vary widely between schools, and often within the school, as some dorms have different costs and are in fact nicer than others.
Learn what you need to know about room and board costs so you'll be prepared to make smart decisions about your college living arrangements.
What Do You Get For College Housing Costs?
Colleges make housing plans and prices easily available on their websites. Typically, when you pay for room and board, you are paying for two things: your dorm and your meal plan. When paying for your dorm, you may get to choose where you live or you might be assigned a place, depending on your school's policy.
At Southern Oregon University, you can choose between a few different residence halls and whether you want to room alone or with one roommate. In addition to these options, you get to choose between three meal plans. At UCLA, however, the meal plan is about the only thing you get to choose. Dormitories are assigned through lottery with older students getting some priority, and most freshmen can expect to be stuck in a small room with not one but two roommates.
Be sure to also check the school's housing website for information on furniture and other furnishings that may come with your room and the dormitory in general. Frontier Hall at the University of Minnesota, has computer labs, piano-practice rooms and a connected dining hall and air conditioning.
Community College Housing Costs
Most community colleges do not offer housing or meal plans, since they were intended to be low-cost alternatives for students who commute. Recently, some community colleges have begun offering housing in an attempt to draw students to these schools. Weatherford College in Texas built Coyote Village as an affordable campus housing option for its students.
While most community colleges still do not offer on-campus housing, you are always able to find more information online or by calling the school in question.
On-Campus vs. Off-Campus Housing
Typically, after one year on campus students are allowed to look for their own apartments. Apartments may be far away and require a long commute, or they might be walking distance from campus.
It's important to weigh the benefits between the two types of housing. Apartments can be equal or more expensive if you plan on living alone, but those students who live with roommates often find it much cheaper to live off campus. This is increasingly true as college costs continue to rise at a rate much higher than renting rates. Apartments also have much more room. Most schools don't offer you your own private kitchen, bathroom and living areas.
While apartments can be bigger and sometimes cheaper, you also have to prepare your own food. Meal plans are not usually offered for off-campus students or are offered at an increased price, since the meal plan usually comes as part of a package deal with dorm housing.
The University of Mississippi has nine traditional residence halls, but they separate entire dorms by gender. While many schools allow co-ed dorms, these restrictions may also make a difference to students when choosing between housing options.
People Who Read This Article Also Read:
Dorm Life 101
Dorm Essentials: A Freshman's Dorm Checklist
Everything You Need to Know About Your Resident Assistants (RA)
Senior Year: Applying for College Housing
Advertisement
Visit Our Student Center

Get on track!
And find out everything you need to know about planning for college.
Advertisement