See All
Colleges >
High School Counselor Basics
High School Counselor Basics
What are high school counselors? Learn the basics and how your counselor is there to help you.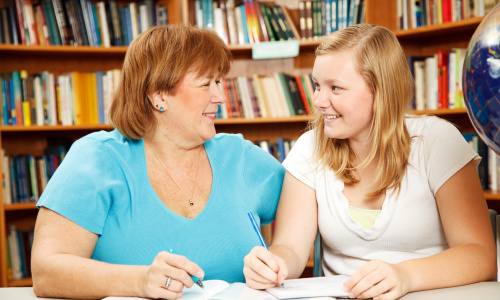 Photo: Thinkstock
High school counselors are faculty at your high school who are provided to give advice and information to students. They are most important as a resource for student career counseling and college help. You can follow the links to find more specific information related to your high school guidance counselors and how they can help you.
See your high school counselor early and often.
Earlier is better when it comes to meeting your high school counselor. While you might not be thinking about college until your junior year, it's a good idea to schedule an appointment to make sure you're on track to graduate and are taking competitive classes that colleges like to see on your transcript (What is a High School Transcript and Why is it Important?). Many colleges weigh your sophomore and junior year grades more heavily, so it's good to see your counselor if you have questions about grades or are trying to improve them.
It's also a good idea to develop a rapport with your counselor because they will be able to give you information on schools more tailored to your wants and needs.
Even if you have never been to your counselor before, it's never too late to meet them. Check out the High School Guidance Counselor Timeline for when to meet your counselor and what to expect in each of your years at high school.
Talk to your high school counselor about college and career counseling.
Your high school counselor has helped many students choose schools, narrow their college selection, fill out applications, and apply for scholarships. They also can provide information and tests to determine potential majors you might enjoy or fields of work that you might excel at.
There are plenty of things your guidance counselor can do for you. Read our Top 10 Ways to Utilize Your Guidance Counselor to get started thinking about them all. And if you aren't sure what questions to ask when you meet, here's 20 Questions to Ask Your High School Counselor.
Develop a relationship with your high school counselor.
Get to know your high school counselor and let him or her get to know you. This is especially good to do if you want a letter of recommendation, since the counselor will be able to write a better, more personal letter that colleges will value more.
It's also a good idea to develop a rapport with your counselor because they will be able to give you information on schools more tailored to your wants and needs. Finally, they're more willing to do extra work for you if they know you. For more counselor tips, read through the Things You Didn't Know About Guidance Counselors.
In the end, it's most important to remember that your guidance counselor is a resource and wants you to do well. If you have any more questions about high school counselors, visit your counselor's office today, or check out High School Guidance Counselor FAQ for more answers.


People Who Read This Article Also Read:
College Planning: When Should I Start?
Building a Strong High School 4-Year Plan
High School Freshman Timeline and Checklist
High School Sophomore Timeline and Checklist
High School Senior Timeline and Checklist
High School Junior Timeline and Checklist

Advertisement
Visit Our Student Center

Get on track!
And find out everything you need to know about planning for college.
Advertisement