See All
Colleges >
Natural Disasters and Emergency Preparedness on Campus
Natural Disasters and Emergency Preparedness on Campus
Find out how colleges are preparing for earthquakes, fires, tornadoes and hurricanes…and how you can stay safe on campus if a natural disaster strikes.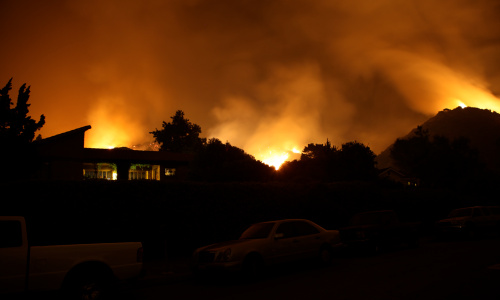 Photo: Thinkstock
Natural disasters are not at the top of every student's list of things to worry about while at college.
More often, bigger anxiety-inducers include grades, relationships, and making sure no one steals your stuff.
Natural disasters do happen on college campuses, though, and students should be prepared.
Proper earthquake preparedness requires that students indoors drop to an interior wall or under a sturdy desk and hold on.
Emergency Preparedness at College
It's important to have a contingency plan for all emergencies you might have to cope with on a college campus. Check with your school or go to your school's website to figure out what sort of emergency preparedness strategies they suggest. Purdue University, for example, has a section on its main website filled with emergency procedures for everything from elevator failure and building evacuations to bomb threats and fires.
Make sure you know what to expect when it comes to natural disasters. Do you go to school in California? You might want to learn something about earthquakes. Is your school in Tornado Alley? It might be wise to look up some information on what to do in the middle of a tornado.
Hurricane Preparedness on College Campuses
Tulane University has very detailed guidelines for what to do in case of a hurricane because the danger is very real for a school in New Orleans. Previously, large dorms had been used to shelter students, but when Hurricane Katrina hit in 2005, the school was evacuated and shut down. The university also helped students' placement in a temporary capacity in other universities and accepted credit from those universities so students could stay on track for graduation.
The 62-page 2011 Tulane University Administrative Hurricane Plan includes information on evacuation procedures, contingencies for academics and athletics, which buildings will be with and without emergency power in case of outages, protection of research assets, guidelines for student communication and property restoration after recovery.
Earthquake Emergency Preparedness
In the western United States, especially California, the earthquake is the most-feared natural disaster. UCLA has information on what to do if an earthquake starts while you are inside or outside, what to do after a quake, and what to do if you are trapped in fallen debris.
Proper earthquake preparedness requires that students indoors drop to an interior wall or under a sturdy desk and hold on. Avoiding windows, mirrors and heavy furniture is important. Students outside should move to open and clear areas away from buildings, trees and power lines. When an earthquake stops, it is important to be prepared for aftershocks.
Natural Disaster Preparedness is a Class?
Many schools offer classes, minors and even majors related to management, response and safety during natural disasters. The State University of New York has an undergraduate minor for disaster mental health. Fordham University, also in New York, offers a master's degree in international humanitarian action, which goes into great detail about contingencies for disasters.


People Who Read This Article Also Read:
College Housing Security and Campus Safety
Dorm Life 101
Fraternity Living: How to Survive Living in a Frat House
Everything You Need to Know About Your Resident Assistants (RA)
Famous College Roommates
On-Campus Housing and Dorm Rules

Advertisement
Visit Our Student Center

Get on track!
And find out everything you need to know about planning for college.
Advertisement